Final preparations being made ahead of lifts being installed at Warwick railway station
Final preparations are being made ahead of major accessibility improvement work at Warwick station.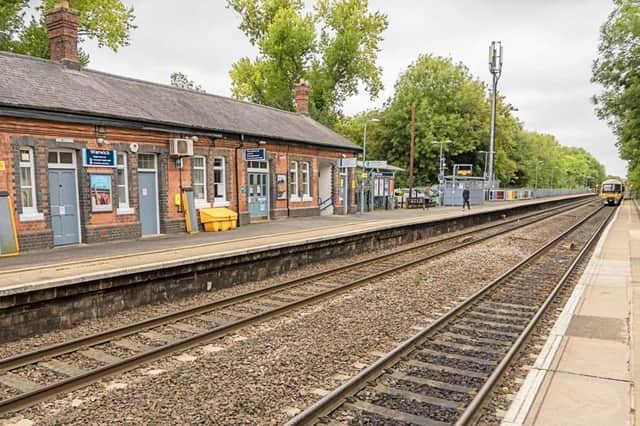 Network Rail will be installing two new lifts in the existing subway, which provide step-free access for passengers using platforms 1 and 2.
Network Work Rail says the work is due to start later this month and is expected to be complete by the end of the year.
Campaigners have been calling for a lift to be installed at the station for more than 20 years and the project has often been delayed.
Warwickshire County Councillor John Holland who, along with residents, began campaigning for the lift in 2001. Warwick and Leamington MP Matt Western, also joined the campaign.
Cllr Holland said: "We actually agreed the scheme some years ago and the reason for having the lifts going down to the subway is so that we can link it with the road at the back – and that's important as it's part of the travel plan for Warwick Hospital.
"We ought to encourage people to travel by train if it's possible in order to reduce traffic around the hospital and to ease some of our parking problems.
"There are quite a number of people in Warwick who can't manage steps – it may be people with health issues, people with prams or cyclists who want to get their bikes on the train or to the cycle racks.
"I'm extremely pleased work is going ahead. Matt Western deserves praise because the money for the lifts had been blocked by George Osbourne and he got the funding unblocked. It probably would still be blocked now if he hadn't got involved.
"Credit is also due to Chiltern Railways as they have been very supportive of this project. Incidentally, The Courier should also take some credit for this as well – because it's run the story on the front page a few times."
For the engineers to install the lifts, the subway between platforms 1 and 2 will be closed from March 3.
A diversionary route will be in place.
From February 25, platform 1 will also be shortened so that work can take place safely while allowing trains to keep running.
However this will see one less train a day calling at Warwick - though those services will continue to call at Warwick Parkway and Leamington.
Some facilities at the station will also temporarily change while the work takes place including a compound for engineers being set up in the station car park and the temporary relocation of toilets.
To explain more about the plans and how the impact of the work, Network Rail is holding drop-in events at the ticket office on platform 1 at the station.
These will take place; January 17 (8am to 10am), January 19 (4pm to 6pm), January 24 (4pm to 6pm) and January 26 (8am to 10am).
Network Rail is also working closely with Chiltern Railways to cause the least possible disruption.
Eleni Jordan, commercial and customer strategy director at Chiltern Railways, said: "Alongside Network Rail, we are committed to engaging with local stakeholders and the wider community, ensuring they are aware of the short-term disruption they may experience while we complete these important accessibility improvements.
"All customers are welcome to join the drop-in sessions advertised to find out more."