Fundraiser overwhelmed by support after donations flood in to help Kenilworth social club
Sarah Richards, who has ME/Chronic fatigue syndrome, succeeded in her challenge of completing the 40-mile route, known as the 'A Coventry Way', in a weekend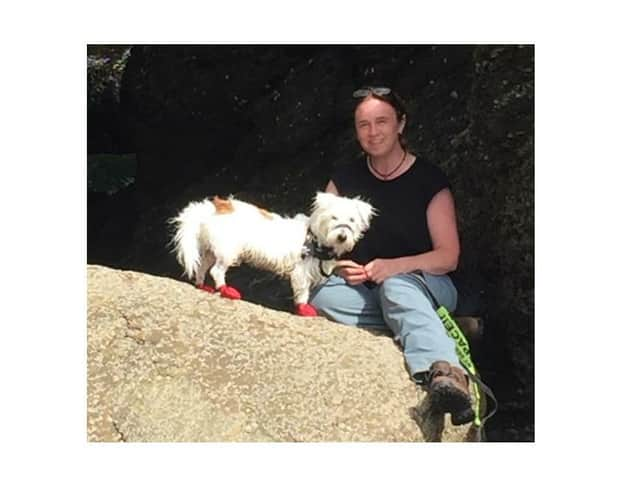 Sarah Richards with her dog Bracket.
A fundraiser said she has been blown away by all the support she got after doubling her target to raise money for social club for people with physical and learning disabilities in Kenilworth.
Sarah Richards, who has ME/Chronic fatigue syndrome, succeeded in her challenge of completing a 40-mile route, known as the 'A Coventry Way', in a weekend.
She had hoped to raise £1,000 for the Kenilworth Helping Hands Club - but her total has now surpassed £2,000.
Sarah, from Coventry, said: "People have been so incredibly generous and supportive of me."
"I did the 40 miles over the course of the weekend of September 12-13 (the 12th was my birthday).
"My route and daily mileage were modest as I was diagnosed with ME/CFS eight or so years ago and something is always hurting."
"Their purpose is to promote the welfare of disabled people in the Kenilworth area through a range of social, physical and cultural activities.
"My brother, Chris, has attended their club nights for many years. When funds allow they also engage in other activities such as theatre trips and an annual weekend at the seaside.
"I've always been made very welcome whenever I've been to club and it's easy to see how much everyone enjoys their time there and what it means to Chris and his friends and their carers and families. They're a great bunch of people.
"Their Christmas party is always the highlight of my festive season. Like everyone else their fundraising will have been somewhat curtailed this year and so I'd really like to be able to give something back."