Headteacher at school in Warwick speaks out about RAAC concrete closures and government denying funding
The old buildings on the site had previously been flagged up as being in disrepair but the Department of Education rejected a bid from the school for funding.
Watch more of our videos on Shots! 
and live on Freeview channel 276
Visit Shots! now
The headteacher at school in Warwick has spoken out about the frustration caused by the RAAC concrete closures and the government denying funding for rebuilding.
Over the last week more than 100 schools across the UK have faced some form of closure on their sites due to concerns over reinforced autoclaved aerated concrete (RAAC).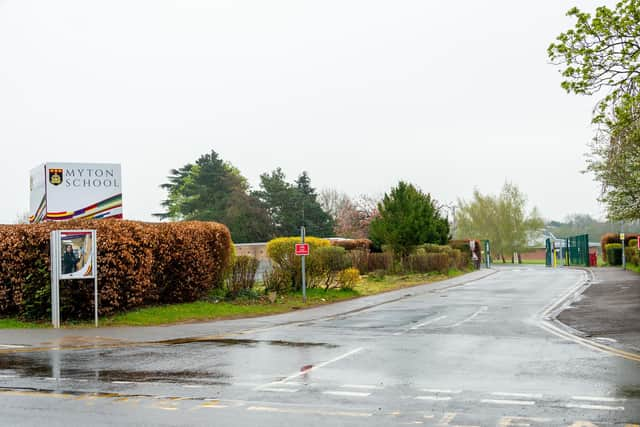 Aylesford and Myton Schools in Warwick were some of the ones affected – resulting in only some pupils returning to the sites with many going back to online learning.
Yesterday (Monday September 4) The Courier published a story about Aylesford School issuing a statement about how the news will affect pupils.
Despite trying to get in touch with Myton School, no statement has been issued from them but headteacher Andy Perry has since spoken publicly about the school closure and the government refusing funding to address these issues earlier.
When he spoke to the BBC, Mr Perry said two older buildings on the site were in disrepair and applied for extra money from the government's School Rebuilding Programme.
He said he then later received a letter from the Department for Education, refusing funding because 'other schools were in worse condition'.
Mr Perry said both he and his staff were feeling a lot of frustration from the delays to the start of term.
Warwick and Leamington MP Matt Western also visited Myton School yesterday and highlighted the issues the school was facing.
After his visit he said: "When Myton School, at its own initiative, did its own survey in April this year and submitted it to the Government's Department for Education it was ignored. Until Friday.
"And now they have to wait for direction from the Government on what they need to do in terms of mitigation.
"For three days they've been waiting and still nothing in terms of what they should do and how it will be funded. And it will be expensive, trust me.
"I am working with the schools and am writing to the Dept for Education to get urgent action."
Government ministers have been accused of taking a "sticking plaster approach" to essential maintenance by National Audit Office chief Gareth Davies.
But Schools Minister Nick Gibb said said he did not "accept" the charge, adding that the government is "world-leading in terms of identifying where Raac is in our school estate".
He added: "We're talking about a small number of schools out of 22,500 schools, but we have conducted surveys since March last year, so we know where Raac is, and we're sending in surveyors to identify Raac.
"And then the decision was taken, an important decision was taken last Thursday to keep children safe with new evidence that emerged about non-critical Raac that we now believe is unsafe, and we took the difficult decision because we want to keep children safe."
Mr Gibb promised a list of schools affected will be published "before Friday" as he put the delay down to the need for it to be "accurate".