High Sheriff of Warwickshire presents 'unsung hero' award to staff member at a Warwick school
Presenting the award was one of his final official duties as High Sheriff of Warwickshire
A member of staff at a school in Warwick has been presented an 'unsung hero' award by the High Sheriff of Warwickshire.
In one of his final official duties as High Sheriff of Warwickshire, Joe Greenwell, CBE DL presented the award to Sonia Brown, who works at King's High.
Sonia, who lives in Warwick, has worked at the school for five years as a midday supervisor, cleaner, and in hospitality.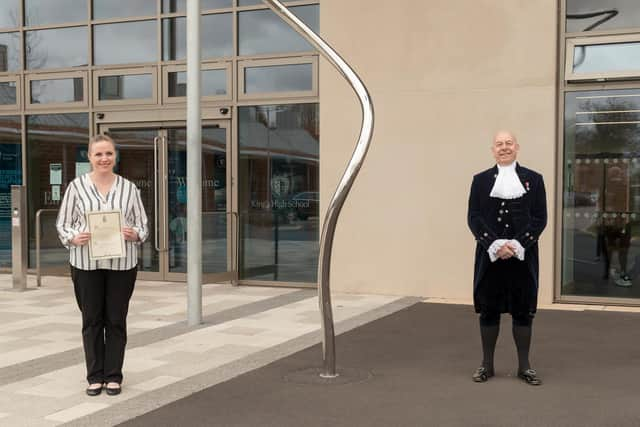 She was nominated for the award by the pupils and staff of King's High.
Head Girl, Olivia Rochford said: "We all love Sonia. She is so friendly to everyone, and always talks to us. We're really excited and delighted for her."
The High Sheriff 'Unsung Hero' awards honour people across the UK who 'go above and beyond'.
Warwickshire's High Sheriff office has worked incredibly hard to present awards to recipients during Covid, often via virtual presentations.
With schools back in action, it was decided to try and arrange a socially distanced ceremony, to honour Sonia Brown at King's High.
Sonia was accompanied by her mother, Head Master, Dr Stephen Burley, and Richard Nicholson, Principal of the Warwick Independent Schools Foundation.
Sonia said: "l was so surprised when l was told l had won my award. I'm just a normal person who works hard and tries to help people in any way l can. l love working at King's.
"The staff are so friendly and l get on well with them all (they always say l have a smile on my face all the time). And l love working with the girls.
"They are all amazing and it's a true honour to work alongside them. l have made my family so proud."