High Sheriff's award for the 'astonishing' work of Rugby's Friends of St Cross
Friends volunteers have made a huge difference through the last year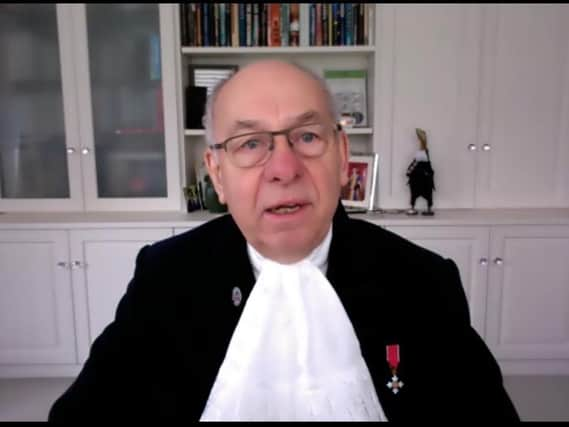 Rugby's Friends of St Cross have been given a well-deserved High Sheriff's Award in recognition of their hard work to support the community throughout the pandemic.
The award was given by Warwickshire High Sheriff Joe Greenwell CBE DL at a March 8 Zoom meeting with the Friends.
During the meeting, Mr Greenwell described the Friends' work over the last year as 'astonishing', adding that he wished he could grant an award to every single member of the group.
Since 1955 the Friends of St Cross has raised more than £3m for Rugby's Hospital of St Cross - and its 200-strong volunteer force has donated countless hours to support its running.
The High Sheriff's Award comes after the group sprung into action at the beginning of the pandemic to co-ordinate Rugby PPE Response - a massive community effort to make sure our area's health and care staff had personal protection equipment.
To date, this community effort has seen 13,373 face visors and 18,248 other items of PPE sent to over 150 organisations.
Members of the Friends have also resumed their volunteer work in the hospital - providing much-needed support to staff with things like administrative tasks.
As he presented the award during the Zoom meeting, Mr Greenwell said: "I take into account the contribution to your community over decades and then we add to that what you have done over the last year, the significance of what you are doing is quite extraordinary and so I have no hesitation in making the Award of a High Sheriff's Award to the Friends of St Cross."
Mr Greenwell then read the citation aloud and commented on the huge benefit to the community of the work of the Friends.
He added: "I know that behind the board there is a team, or even an army, of volunteers and I ask that you pass on the appreciation of the county, the Lord Lieutenant and the High Sheriff to all the volunteers and those associated with the Friends.
"It has been an extraordinary effort over a long period of time. Thank you"
Willy Goldschmidt, chairman of the Friends of St Cross, said: "On behalf of the trustees and volunteers of the charity I would like to thank you and the Lord Lieutenant for the honours you have bestowed upon the charity.
"We all feel we are making a difference for the patients that use the services at St Cross and are delighted to work in partnership with the great team in the hospital."