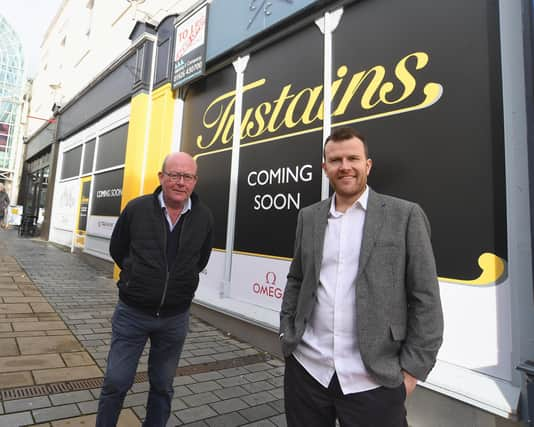 A Leamington jewellers which dates back to the 19th century is set to triple in size by moving to a bigger premises in the town centre after a deal was signed.
Tustains Jewellers, founded in 1895, is set to move into a 3,260 sq ft unit at Satchwell Court – three times larger than its current shop on Regent Street - just outside the entrance to the Royal Priors Shopping Centre.
The company, which sells a variety of luxury watches and fine jewellery including bespoke items, is confident the move will boost its turnover and is aiming to hire new staff for the new store.
Read more: Reprieve for Leamington industrial estate businesses as student flats plans are rejected
The move was sealed after leading Leamington commercial property agents Wareing & Company agreed the deal with Tustains on behalf of the freehold owners of Royal Priors Shopping Centre.
Tom Milner, director of Tustains, said: "Luxury retail requires space, particularly for multi-brand showrooms such as ours. Hospitality at the new store will be essential and we will be able to show a much more comprehensive collection from each watchmaker.
"We had wanted to move stores for a while, but part of the problem in finding a new home has always been that our location was already right.
"So when Wareing & Company showed us the unit on Satchwell Court, we knew it would be an excellent new home for us.
"It offers the same location on the right part of Regent Street, but also catches the footfall through the Royal Priors. We also like the presence of the wide frontage and the courtyard.
"This is a big step up for Tustains, and we are looking forward to opening the new store in the near future."
Bill Wareing, owner of Wareing & Company, added: "Tustains has been a well-respected name in Leamington for more than 120 years, so to agree a deal to not only keep the business in the town but allow the team to fulfil their ambitions and bring jobs to the area is fantastic news.
"It is a great vote of confidence in town-centre retail, with the unit at Satchwell Court being among the most prominent in Leamington town centre.
"We hope the move allows Tustains to continue to flourish in Leamington and enable more people to earn a living within the town."