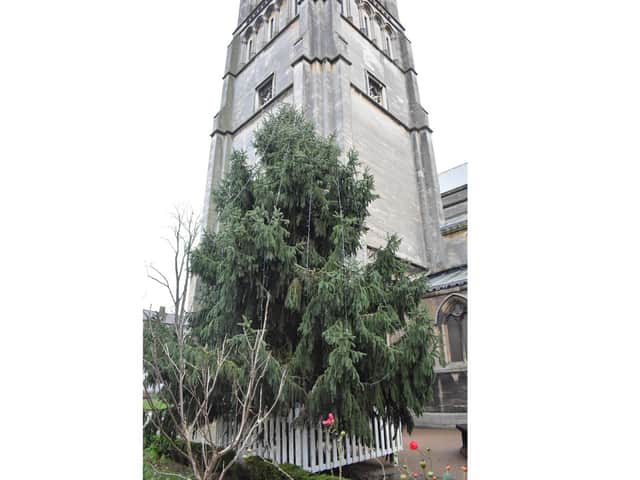 The tree, at St Andrew's in the town centre.
The huge public response to the Rugby Rokeby Lions Tree of Light project has continued this week - raising much-needed funds for Myton Hospice.
The project sees residents able to have loved ones and friends remembered on the tree by sending in dedications.
Sponsor forms can be found in print editions of the Rugby Advertiser and also at Blackham Opticians, who have agreed to be the collecting point this year as the Myton Hospices Shop has had to close.
The completed Sponsor form and your donation cheque or Postal Order (minimum of £5 per dedication) payable to 'Rotary Tree of Light', should be sent to:
'Rotary Tree of Light', c/o 2 Bawnmore Court, Rugby CV22 7QQ or taken to: (please knock and wait to be invited in) Blackham Opticians, 21 Albert Street, Rugby CV21 2SD - marked 'Tree of Light'
If you are a UK taxpayer you may also indicate that you wish your donation to be Gift Aided to increase it by 25 per cent.
Here are all the dedications for this week
Brian & Susie Stratford ; William Holley ; Sally & Dick Pails "love you always" Love Carole, Baz & family ; Remembering Pam Hudspith who died this year, a Rugby friend for over 40 years - RIP from Bridgette ; Becky & Tommy McGlinchey (Mum & Dad) "never more than a thought away" ; Maureen Glen "our precious sister, loved & missed always" ; "In loving memory of our darling son Paul Hobley" from Mum, Dad and Chris ; Dennis Sawkins "much loved and missed husband and dad" ; My loving Husband James Lionel Phillips "never forgotten" ; My loving Mum & Dad Violet & Fred Harden "never forgotten" ; Ellis Lloyd, 23 years since you left us - still loved and missed by Ann & family ; Heinz & Ada Mieth "always in our thoughts" ; Derek Arthur Harding ; "Remembered with so much love" my precious grandaughter Lauren Redpath-Potter ; "Remembered with so much love" my darling husband Charles Redpath ; "Remembered with so much love" dearest dad & mum, Jack and Margaret Barrows ; "Remembered with so much love" family members Ros & Bill Childs ; "Remembered with so much love" family member Carol Goss ; "Remembered with so much love" family member Michael Barrows ; "Remembered with so much love" family member Val Childs ; "Remembered with so much love" family member Julie Spen ; "Remembered with so much love" dear friend Jean Defford ; John Tysall ; Kay Tysall ; Hilda and Bill Rice ; Rene & Tim Prowse ; Gwen Tysall & Winn Prowse ; Andrew Michael Bostock (Mike) "forever in our hearts" Christine & family ; Alan Robert Telford ; Sheila Mary Jude ; Eddie Jackson "loving husband, dad & grandad, sadly missed" ; Bill Nichols "well loved brother & uncle, sadly missed" ; Paul Anthony O'Rourke "beloved son & brother" ; Agnes and Albert Harris (Mum & Dad) ; Tony Hobson ; George and Cis Green ; My dear Husband, Dad, Grandad & Great Grandad Frank Tew ; Alice Tew (Mother-in-law) ; Dorothy & Jack Smith (Mum & Dad) ; Gary & Alan Wills & Kerry Marriott "beloved husband, son & daughter" ; James and Norah Jack "dearly loved parents" ; Darren Hall "remembered with love" ; Jane Goddard & Reginald Goddard ; Dorothy Goddard ; Maurice Cresswell & Dorothy Cresswell ; Violet Wagg & Sidney Wagg ; Annette Jane Lane "always in our hearts" ; Ed Pedder "love always XX" Husband, Dad, Grandad, Son, Brother, Uncle ; Vic and Lil Foster "remembering you always" ; Marg and Stan Hipwell "gone too soon" ; Jack & Betty Larkin "always in our thoughts" ; Fred and Emily Harris "good night, God bless" ; Ray & Madeline Gray "remembering special friends" ; Marra Aliberti "missing you already" ; Janet Patricia Sewell "in rememberance of my beloved wife" ; Colin Dean ; Evelyn Corson ; Harry Corson ; Patricia Jacks ; Martin Jacks ; Rosa, Dickie & Andrew May ; Betty & Wal Adams ; Pete Robson ; Mark, Gertrude & Joan Lippman ; Valerie Flavell ; James Ronald Chambers ; Brian Pulham ; Joyce Chambers ; David Flexen ; Tom & Annie Flexen ; Beatty & Lewis Morgan ; Malcolm Cherry ; Gwilym & Anne Davies "much loved and remembered every day" Carol, Ron & family ; In memory of Mum & Dad, Mrs & Mr F Dring - Margaret & John XXX ; Tragic loss of my daughter Lorraine Barrow - Margaret & John XXX ; Mr Charles Fellows ; Mrs Gwendoline Fellows ; In loving memory Mum Vera Fisher ; In loving memory Dad Eddie Fisher ; In loving memory Sister Lesley Fisher ; Maldwyn Parry, Husband, Father& Pappy "never forgotten" ; Harry Dingley ; Alex Wyllie "love and miss you forever" your loving family ; John and Florance Clare Blick ; Emily & Bill Clarke & Pippa "remembered with love" ; Tom Pails "remembered with love" ; Rosemary Montaubatv ; Daisy Moses ; Barry Webb, Husband ; Lynn Jordison, Daughter ; Martha O'Hara ; Stanley Shirley (Stan) ; Geoffrey Mapplethorpe "always remembered" ; Celia Gash "always remembered" ; Ena and Arthur Iliff "always remembered" ; Peggy Nichols "Never forgotten, always remembered" ; Freda James Nichols "thinking of you always" ; Glyn Jones ; Steve Jones ; Cory Jones ; Zak Jones ; Tommy and Bridie Jones (N Ireland) "loved & sadly missed by daughter Sandra & Paul" ; Dennis (Snr) & Dennis (Jnr) Beddows "sadly missed bywife & mother Doreen, son & brother Paul & Sandra" ; Jamie Clarke ; Mary & John Middleton "Remembered with love" Dawn, Stephen & family XX ; Jenny & Vic Brooks "Forever in our hearts" Kevin, Kay, Jo, Nick & families XX ; Farmer family - Mam, Dad, Win, Derek, Pat, Joan, Peter, Mark, Robert & Freda "miss you all so much" lots of love Janet & Gordon XXXXXXXX ; Emma Oldham ; Jill Dorothy Paget "sadly missed & forever in our thoughts" ; Philip Quinn - son ; Sid Trevitt - brother ; Richard Andrew Still "Never more than a thought away, loved and longed for every day" from Mum & Dad, Simon & Jason ; Sylvia Giles ; Graham Giles ; Lucy Rose Giles ; William (Bill) Giles ; Edward Oliver Cresswell ; Vi and Len Benfield "dearly loved, mum and dad" ; Craig Underwood "sadly missed" ; Cyril Frankis 1926-1998 "forever in our thoughts" ; Ted & Stefania Nepip "loved parents, forever missed" ; John, Kathleen & Myra McNulty (RIP) ; John & Shirley Jones (RIP) ; Shelley Bromley "a special star in the sky, we miss you Shelley" love Mum, Nan, Pap & Jayne ; Nan/Mum & Pop/Dad "always in our hearts & thoughts" XXX ; Dick & Eileen Eales ; Ian Andrew Cockerill ; Jill Mills, Bill, Hilda & Terry Higham "loved and missed by all their family" XXX ; Malcolm Pearce "Husband, Dad & Pap, loved & missed more each day" XXX ; Tess and Fred Smith (Mum & Dad) "loved & remembered every day R.I.P." ; Michael and Catherine Costello (Mum & Dad) "loved & remembered every day R.I.P." ; Alison Jane Dunkley, Cancer Research UK "love & miss you always" lovefrom Mum, Dad and all the family ; Arthur Hammersley, dear Husband & Dad "still remembered with love by Joan & Sue" ; Douglas T Dernie ; David John Fox ; W G Price, Former MP for Rugby ; Edith Rose Colledge - Nan, Greatnan ; Peter Huckfield - Husband, Dad Grandad ; Rosser, Colledge, Huckfield and Walker Rosser families ; John Middleton XXX ; In loving memory of Doreen & Bob Richardson ; In loving memory of Bill Smith & Jean ; For my beloved Mum and Dad, Agnes and Joe Munday "loved always" XXX ; Marlene Jeanette Aliberti ; Lionel Albone "loved and missed always" ; Mary Albone "loved and missed always" ; Micheal Albone "loved and missed always" ; Keith Albone "loved and missed always" ; Geoff Morgan - dear Husband of Hilda ; Gordon, Brian & John Gurney - dear Brothers of Hilda ; Deceased - Husband Dennis Grimes, Sister Joyce Kitchener & Brother Maurice Wagstaff ; Reg, Connie & Martyn Jones "always remembered" ; Emily Upjohn "always remembered" ; Audrey Payne & David Payne ; Ida Henton ; Eileen Townsend ; Maureen Ellis ; Frank Lucas & Grace Lucas ; Connie Clarke ; Elsie Berry ; Another year without you Carol Ann Elward "forever in our tho\ughts, love you" XX ; John Gilbert ; Ruby May Wormall ; Edna Carrington ; John Carrington ; Barbara & Ted Colton (Mum & Dad) "still sadly missed" love always Sue, Janice, Ian & famlies ; Ron Hayhoe "missing you as always" ; Laura Joyce "forever in our hearts" ; Mum & Dad - Irene & Stan Atkins "loved and missed" ; Kelvin Eveleigh ; Peter Eveleigh ; Trixie Penn ; Roy Vennard ; Florence & Reginald Brown ; Glynne Jones "always in our thoughts" ; In loving memory of my Parents Bill & Susan Todd ; In loving memory of our Sister & Brother-in-law Dot & Bill Gray ; In loving memory of our Sister-in-law Betty Todd ; Lesley Loydall ; Llew Lloyd-Davies ; Lucy Elizabeth Meehan ; Bob Webb ; Doris Webb ; John Webb ; Much loved and sadly missed husband Alan Colgrave ; Much loved parents Bill & Nancy Rutherford ; Much loved parents Cyril and Vi Colgrave ; Eric Bates - Dad & Grandad "always in our hearts" ; Malcolm Clarke - Dad & Grandad "always in our hearts" ; Eric Browning ; Phyllis Browning ; Dad Fred Shears "thinking of you always" from daughters Lesley & Rosie ; Brendan Murphy "remembered alway" from partner Lesley & daughter Sharon & family ; Walter and Margaret Mosteckyj "always remembered" love Val, Alan & family ; Brian and Ivy Pickering "always remembered" love Alan, Val & family ; Dot & Ted Martin, Mum & Dad ; Jackie Purkis, Sister ; Treasured memories - Tony Dean ; Treasured memories - Bill & Milly Webb ; Brian & Nora Maguire "fondly remembered by all the family" ; Loving memories of Percy and Dorothy Chester ; Richard Charles King ; David Victor King ; Charlie Cassidy ; Johanna Sheehan "miss you so much Mum ; Michael Coyle "thinking of you always" ; Pat Smith - special friend ; Anne Harper ; David Tugwell ; Rita Bott ; Maurice Buckingham ; George Shaw ; Phyllis Shaw ; David Shaw ; Christine Anne Priest ; E Fenton ; V G Fenton ; Loving memories of my darling husband Bob Southam "miss you so much, always in my thoughts" loved always from Carol XXX ; In memory of a dear Grandad - Reginald Colledge ; In memory of a much loved Mum & Dad - Dora & George Colledge ; James Waters ; Rose Quinn ; Anthony Quinn ; Dad, Nan, Grandad Westwood "Always in our hearts" love Son & Daughter-in-law Westwood ; Brother Stephen, Sister Beaty Morrison & Son Cecil Shears - Love from all the Shears family ; Remembering my Son, Gary Jones-Cutter ; Cyril Orland ; Fiona Dazeley ; Joan Hancox "loved & remembered always" loving Husband Norman & family, Lorriane & Wendy ; Tom McElhatton ; Kevin McElthatton ; Margaret Sloey ; Jonathon Potter "never forgotten, always loved" ; Frank & Eliza Edwards ; Albert & Nellie Smith ; Michael Tailby ; Betty & Victor Hatwell ; Neville Rainbow ; Jim Hales "always in our thoughts, sadly missed Husband, Dad, Pap and Great Grandad" ; Kathleen Shepherd ; Precioous Daughter Gina Coy ; Annie & Pat Geraghty ; Eric Bates and Brother Roy ; Richard Luce "always in my thoughts" ; Anne and Paul Cooper ; Jim Garrington "never far away" ; Tracey Lee "never far away" ; Grandma "never far away" ; Dr & Mrs Wallis "wonderful parents" ; Rermembering Mum & Dad, Peggy and Jack Barnett ; Remembering dear friend Lou Groom ; Remembering friends/colleagues lost this year ; Remembering SR Lei Dayrit, who made the ultimate sacrifice ; Remembering Mary Battrum "gone but not forgotten" ; Remembering Pat Groombridge "gone but not forgotten" ; Remembering Min Nash "gone but not forgotten" ; Remembering Michael Mapplethorpe (paper man) "gone but not forgotten" ; Remembering Mr Henry "gone but never forgotten" ; Remembering Mum & Dad, Brenda & Sam Fellowes ; Remembering Lynda Fellowes (Sister) ; Remembering Kate Fellowes (Sister-in-law) ; Philomena O'Driscoll (Mum) ; James O'Driscoll (Dad) ; Steve Hope (dear friend) ; Mick Devine (dear friend) ; Mick Heffernan (dear friend) ; John 'Lardy' Allard (dear friend) ; Malcolm John Batchelor (Dad) "love & miss you everyday" XXXX ; Lavina Allen (Mum) "love & miss you everyday" XXXX ; Gary Husain (Brother) "love & miss you eveyday" XXXX ; Connie & John Douglas (Mum & Dad) "love and miss you both" XXXX ; Arthur O'Neill ; Charles O'Neill ; Doris Cottrell ; Les Watts ; Alex Claydon ; June Humphreys ; Ann Berry ; Joseph Sadler "loved and sadly missed" ; Mary & Gordon Adcock "love & miss you both" ; Bill Masters "missing you especially at this time of year" ; John & Alice Thomas "missing you especially at this time of year" ; Jim & Connie Warner (Dad & Mum) "loved and missed so very much" ; Steve Gurling (Husband) & Samantha Holland (Daughter) "loved and missed so very much" ; Ron Brittain ; Celia Brittain ; George O'Meara ; Thomas Fallon ; Thomas Fallon ; George O'Meara ; Derek Duerden ; Wilf Brown "always remembered" ; Dot & Ted Harrison "sadly missed" ; Brian Malins ; Fred & Audrey Whitmore ; William & Gladys Buggins ; Margaret Bird (nee Buggins) ; Jennifer Smith ; George & Madge Donovan