Huge turnout for Rugby's peaceful Black Lives Matter demonstration, organisers thank residents and police
Around 1,000 people attended the peaceful event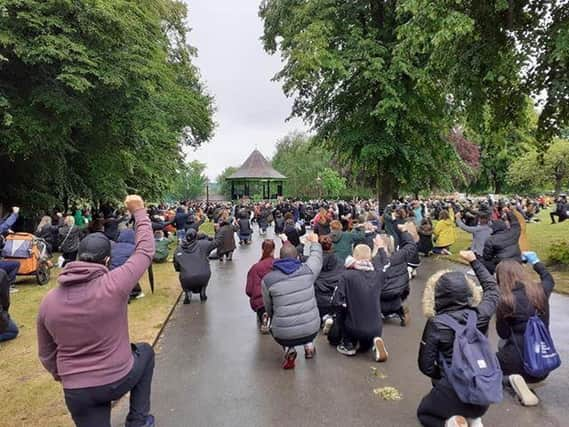 An impressive number of Rugbeians defied the rain today, June 7, to support Black Lives Matter following the murder of black man George Floyd at the hands of US police.
The crowd, estimated to be around 1,000-strong, began the march outside Negrills Jamaican restaurant at 1pm and walked through the town centre, chanting 'Black Lives Matter'.
They finished in Caldecott Park, where there was then a rally, which included poetry, music and speeches, and lasted for over an hour and a half.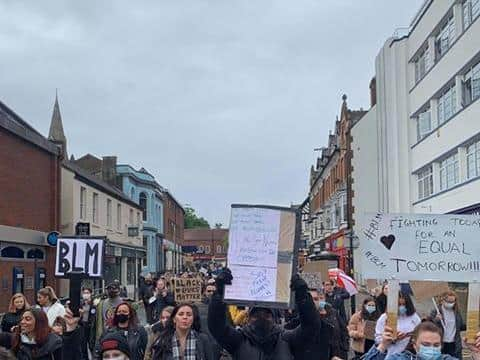 The event went peacefully, and Rugby's police officers have been praised for their support.
In a joint statement the organisers, Brogan Stephenson, Adrian Biggs, Fay Reaney and Teri Morgan said: "As a team we would like to say we have been completely overwhelmed by the support of not just the community of Rugby but also the Rugby police for supporting as well.
"We are striving for change and to stand up and make a difference."
Pete Mclaren of Rugby Trade Unionist and Socialist Coalition (TUSC) was present for the march.
He said: "The general themes that cut across all the contributions were that black lives matter at all times, and that black and white needed to work together in unity.
"A number of speeches referred to the brutal racist murder of George Floyd and the need to stamp out racism in all its forms.
"Early on in the rally, ten-year-old mixed race twins brought the house down with their own poetry dedicated to racial unity.
"Their mother, separately, later on spoke about the importance of empowerment.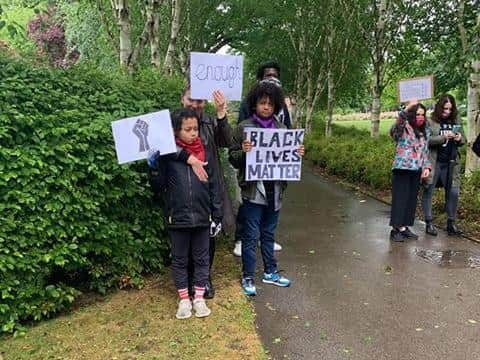 "A very eloquent 16-year-old lad put racism within a political context, and a very brave girl of the same age related her autism to her struggles against racism.
"A local vicar spoke of the need for racial unity with compassion, and a Nigerian woman made a very telling point about being made to feel she was too black to be white and too white to be black.
"A number of contributors, especially, worryingly, the younger ones, spoke of the racism they had personally experienced at schools in Rugby.
"The event showed what a powerful message Black Lives Matters is putting across, and how much local support there is for that message about challenging racism and racial discrimination.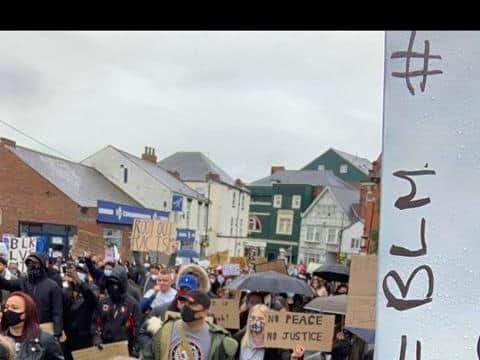 "As an organisation that has always campaigned against racism, and includes the importance of welcoming all immigrants in all its campaigning literature, Rugby Trade Unionist and Socialist Coalition was very impressed with the protest and the organising of it by Rugby Black Live Matters.
"It was also a welcome experience to have had friendly and positive policing throughout the march and rally, and it was noticeable that the police officers in the park joined in with applause at the points made during the contributions."
Cllr Barbara Brown, chair of Rugby Labour Party and deputy leader of Rugby council's Labour group was also present for the march.
She said: "I believe the powerful messages delivered by the Black Lives Matter speakers in Caldecott Park today are the start of genuine change.
"Listening to young people speak about their heartbreaking experiences of prejudice and bullying really brought home how much there is to do.
"But the good thing is that there are so many of us who are willing to help this happen.
"We are very proud to stand with Black Lives Matter in Rugby, and we stand in awe at the courage of our black community, which has given so much to this town."