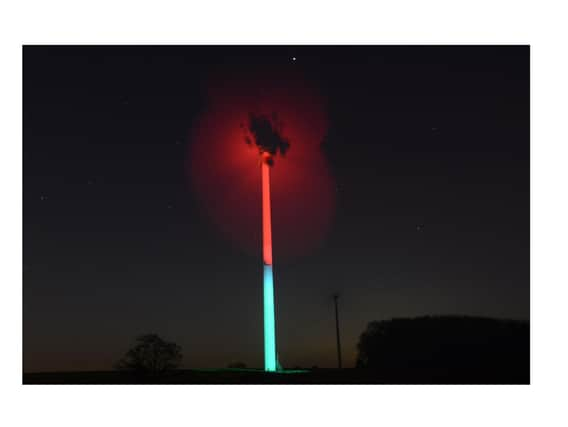 A 410ft wind turbine in the Harborough district has been turned into a giant poppy ahead of Remembrance Sunday.
The 125-metre high turbine at Swinford Wind Farm has been transformed to honour every member of the UK's Armed Forces – as well as highlighting the Royal British Legion Poppy Appeal.
The massive structure has a 295ft (90m) wide poppy head projected on to the blades – and a cascade of smaller poppies evocatively tumbling 262ft (80m) down the turbine tower.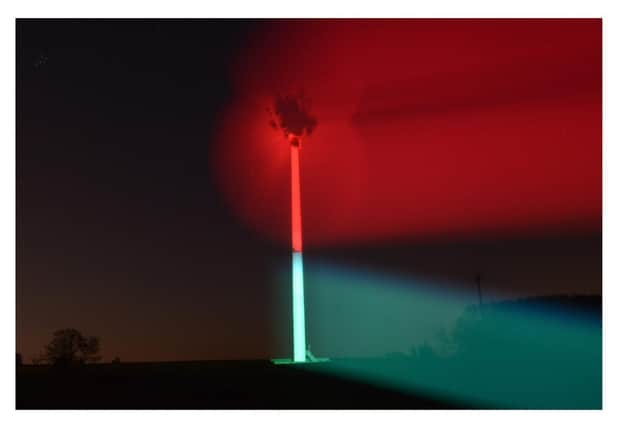 Energy company Vattenfall, which operates the windfarm and is a signatory of the Armed Forces Covenant, "highly values the role that former military personnel have played for the UK".
Nearly 10 per cent of its UK workforce currently come from a military background, having developed many of the skills required for careers in the renewable and low carbon energy sectors.
Vattenfall is aiming to fundraise £10,000 to boost the Royal British Legion - and donations can be made via the company's Just Giving page here: https://www.justgiving.com/fundraising/vattenfall-poppyappeal
Colin Brown, senior business development manager at Vattenfall and a former Royal Navy Submariner, said: "At this time of the year we normally see an army of loyal volunteers and supporters selling and wearing poppies.
"However, Covid-19 has had a huge impact on the usual fundraising effort of the Royal British Legion's annual Poppy Appeal.
"The Royal British Legion provides lifelong support to serving and ex-serving personnel and their families."
He added: "We hope that this small symbol of our respect and appreciation encourages people to keep supporting the annual Poppy Appeal and the assistance it provides to veterans and their families."
Mark Smith, community fundraiser for the Royal British Legion and a former Royal Artilleryman, said: "Remembrance Day is important not just to private individuals or groups of people, but to industry and commerce as well.
"Every poppy counts and this particular poppy will have been seen for miles around as well as people driving past on the M1.
"It's a timely reminder of the sacrifices of the past, and which continue to be made by our Armed Forces and their families for our sake.
"We'd like to thank Vattenfall for their commitment to helping the Poppy Appeal and the Royal British Legion raise both awareness and funds to support so many veterans."
The amazing lighting effects on the wind turbine were made possible thanks to 3D video projection specialists EMF Live, who you can find here: https://www.emftechnology.co.uk/