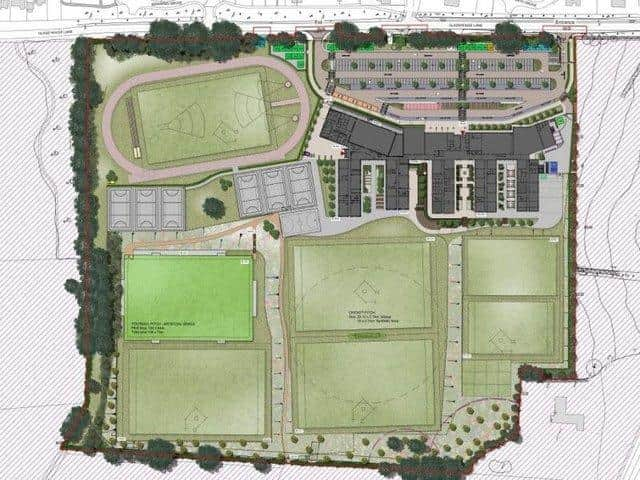 The main building work of a new Kenilworth School is set to start later this month and be completed by June 2023.
The current school and sixth form will move from their two respective sites in Leyes Lane and Rouncil Lane and the new school and sixth form building, with a capacity for 2,200 pupils and students, will open on land at Southcrest Farm off, Glasshouse Lane, in September 2023.
The land was acquired by the Kenilworth Multi Academy Trust (KMAT) in December 2020 and developer Morgan Sindall, which has now been awarded the main construction contract for the project, has undertaken pre-construction works to prepare the site for the new school.
The project has been planned since 2014 with staff and students having been involved in a series of consultations since that time.
Hayden Abbott executive head of Kenilworth School and Sixth Form and Multi Academy Trust, said: "It is an exciting time ahead for the future of young people and the community of Kenilworth.
"This represents years of hard work and successful partnership working and I would like to pay tribute to the contribution of many external partners, especially Warwick District Council, who have supported us to achieve our vision.
"The new school will provide modern educational facilities to accommodate the changing needs of the school community over the coming decades. Younger students in our local feeder schools can look forward to enhanced opportunities in the new build.
"Students from our partner secondary school within KMAT, The Westwood Academy, will also benefit from this new facility by being able to access post-16 courses at the new site."
Warwick District Council has purchased the existing school sites at Leyes Lane and Rouncil Lane for housing development as part of its Local Plan.
Members of the Site Relocation Committee, KMAT Trustees Shirley Whiting and Richard Hales added:"This is a pivotal moment for the project as the many years of hard work come to fruition. Seeing the school rise out of the ground should be a proud moment for the whole town.
"The school has worked closely with Morgan Sindall and advisers, Arup, to secure a flexible and efficient design for the school that will provide not only amazing new facilities for the students but also for the wider Kenilworth community."