Inspector asks Warwickshire fire service to review action plan on risk 'within 28 days'
It was the only immediate intervention put forward, although there were a host of other areas for the service to work through.
Watch more of our videos on Shots!
and live on Freeview channel 276
Visit Shots! now
Warwickshire Fire and Rescue Service has been recommended to review its action plan on assessing fire risk within the next four weeks.
The cause of concern was raised as part of an inspection by His Majesty's Inspectorate of Constabulary and Fire & Rescue Services (HMIC) which was conducted in March and reported on this week.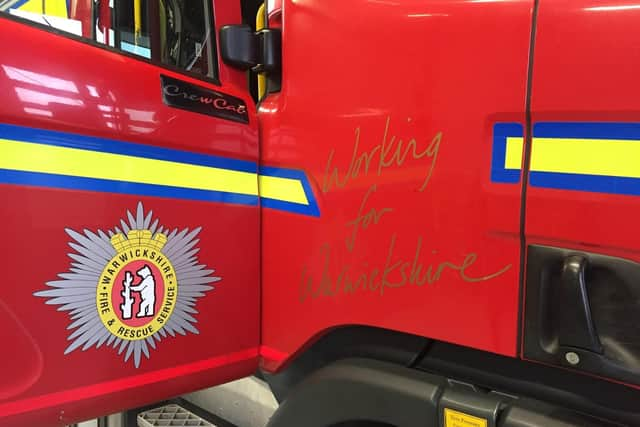 Protecting the public through fire regulation was one of seven areas where it was deemed improvement is required.
All fire and rescue services should assess the risk of fire in certain buildings and, when necessary, require building owners to comply with fire safety legislation.
Services must have a locally determined, risk-based inspection programme for enforcing the legislation and while they decide how many assessments they do each year, inspector Wendy Williams reported that Warwickshire "hasn't done enough since the last inspection to determine its highest-risk premises to inform its risk-based inspection programme".
She recommended a review of Warwickshire's action plan "within 28 days", detailing how the service will "develop a protection strategy with a resourced and prioritised risk-based inspection programme, review its programme to make sure it identifies its highest-risk premises and put in place a clear plan with time frames for improving its management of risk information".
It was the only immediate intervention put forward, although there were a host of other areas for the service to work through.
Other areas for improvement were preventing fire and risk, making the best use of resources, future affordability, getting the right people in the right places, promoting fairness and diversity and managing performance and developing leaders.
The service was deemed adequate for understanding fire risk, responding to fire, emergencies and major incidents and promoting values and culture.
It was congratulated for innovative practice in relation to its Chartered Manager Degree Apprenticeship in partnership with Coventry University with the report stating: "Staff told us that the apprenticeship helps them develop important management skills and apply them in the workplace.
"We found examples where staff had contributed to or led change and improvement in the service and, as a result, improved services to the public."
The service was not deemed outstanding, good or inadequate in any areas.
Chief fire officer Ben Brook focused on the positives when he addressed councillors at Wednesday's meeting of the Resources, Fire & Rescue Overview & Scrutiny Committee, a panel that oversees the work of the service.
"It is in the press but I would encourage you all to read the full report on the HMIC website," he said.
"They have said Warwickshire Fire & Rescue Service needs to make more improvements. The report also states that progress has been made in almost all areas since the inspection in 2021-22.
"Of significant importance is the improvement made in community risk management planning and our response to promote equality, diversity and inclusion. When you look at that on the backdrop of other fire and rescue services, that is a real positive for Warwickshire.
"It should also be noted that in the last inspection we had three causes for concern, in this inspection we have closed down two of those with only one remaining.
"We had 41 areas for improvement in the last inspection, we now have only 26 remaining. In the last inspection we had no areas of notable practice, which looks at sector-best activity and ways of working, in this inspection we have had one, which will be shared across the fire and rescue sector.
"Hopefully, you can see that significant progress has been made, our direction of travel is good and we have robust plans in place.
"However, as a learning organisation, we recognise the need to make improvements. We will learn and improve from this inspection and we have a concentrated programme of work to improve the service's ability to perform and serve the communities of Warwickshire."
Chair of the panel Councillor Adrian Warwick (Con, Fosse) said the report would be discussed in more detail in December but proposed a vote of thanks to Mr Brook and the service "for the hard work and positive direction of travel".
"We look forward to the further improvements that we know you will make," he added.
Those comments were endorsed by the panel without dissent.