Kenilworth pub responds to national construction charity's 'DIY SOS' call by providing meals for volunteer tradesmen transforming home of paralysed man
A Kenilworth pub team has responded to a DIY SOS-style call for help by providing meals for workers who are transforming the home of a paralysed man.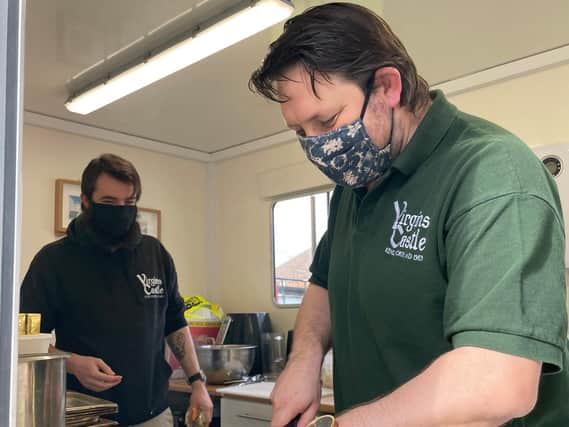 Members of the team from the historic Virgins & Castle pub in the town have been on hand to provide the catering for workers on project being run by the national construction charity Band of Builders.
A team for the charity are currently working on the home of Rob Lamb, 58, of Solihull, who suffered a severe spinal cord injury when he fainted due to low blood pressure at home in October, leaving him paralysed from the chest down.
The quantity surveyor has been recovering at a rehabilitation centre in Oswestry but his home in Solihull needs specialist adaptations so he can live there safely.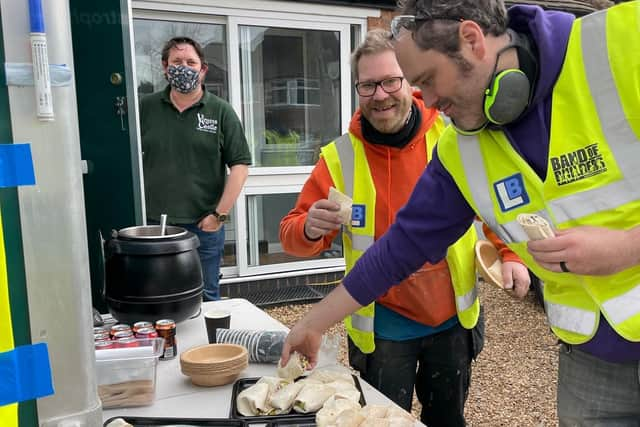 The Virgins & Castle team have been providing food for the 60 volunteer tradesmen from across the country, who have been working on the nine-day project since March 13.
Jonathan Carter-Morris, co-founder of the relaunched Virgins & Castle pub in High Street, said: "When we saw Band of Builders were looking for people to provide their volunteers with hot meals we mentioned it to the team and it was a resounding 'yes' from all involved.
"Being able to play a small part in such a great cause to help someone has been incredibly rewarding.
"Since we took over the Virgins & Castle this time last year we've helped with the COVID support group in Kenilworth, as well as providing school meals at half term as part of Marcus Rashford's campaign. So being able to support a charity like Band of Builders on our doorstep was something the whole team wanted to do."
Rob, who was widowed when wife Julie died suddenly in 2017, lives with sons Callum, Gavin and Mackenzie, who plays for West Bromwich Albion's youth team.
Gavin said: "We've been overwhelmed by the support we've received and still can't quite believe this is all happening.
"When dad first got injured, we knew we'd need to make huge changes to the house for him to come home, so we started fundraising for those and for the care that he'll need.
"Then Band of Builders stepped in and it's taken a huge weight off.
"Not only does it mean the money we raised can focus on dad's care, but it means we've got experts making sure everything is done right so the house is as safe and comfortable for dad as possible."