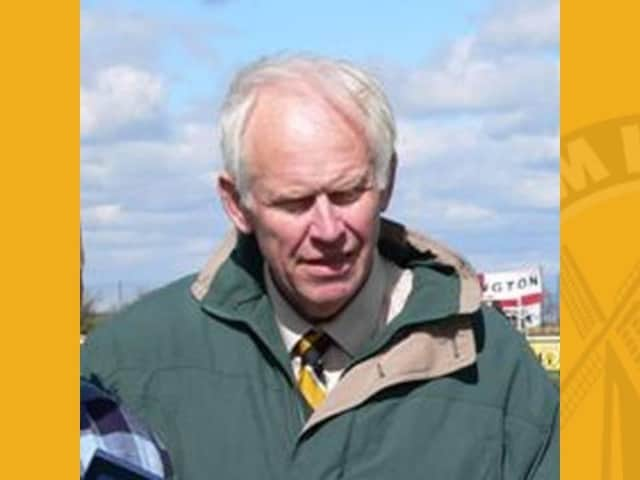 Leamington FC Life President and former chairman Mick Brady.
They lined the streets near the site of the club's former stadium The Old Windmill in Tachbrook Road where the funeral cortege passed by on its way to Oakley Wood Crematorium.
Mick died on September 25 and the club has made a statement on its website which says: "We send our thoughts to Mick's family in these tough times almost a month on from his passing.
"All Leamington fans have come together to pay their respects to Mick through messages on social media which were read out at both half time and full time on BrakesLiveFM by commentator Matt Delaney and this was one last chance to thank Mick for giving us the club we know today as a Vanarama National League North side."
Paul Vanes, a former press officer for Leamington FC has written his own tribute to Mick.
He said: "I have been in full and part time football since 1976 and during that time I have only ever met two administrators who could be classed as giants.
"The first was Ron Timmings together with his colleague Les James and the second was Mick Brady alongside David Hucker.
"Mick came off the terraces in 1986 to take charge of finding a new home for the Brakes as the company directors offered the ground to the football club knowing they had no way of raising that sort of money in such a short time.
"The club went into hibernation and it was the end of the beginning as David and the directors started to plot the way back using Chairman Mick as the figurehead as he was featured everywhere, local radio, TV and the newspapers.
"The annual fee was paid to Companies House to keep the club alive and a series of dinners brought in money.
"'Sir Mick' was a wonderful man who made the time to greet people coming into the New Windmill Ground and I was one of them, 'hello' he said, 'I've not seen you before' shaking my hand as we introduced each other.
"At that time I was press officer of the Midland Football Combination and it did not take long before I joined the Brakes in the same capacity.
"Seeing Mick in action was a pleasure, nothing was too much trouble for him as the club climbed through the leagues.
"The NWG had an ethos that sadly was not to last and the original directors started moving away.
"I am saddened by the news of Mick's passing and it is fitting that the cortege passed the Old Windmill Ground allowing many fans who could not be present at the crematorium, due to coronavirus restrictions, to pay their respects to this great man.
"Now is the time for the club directors to re-name the ground the 'Mick Brady' stadium.
"Sincere condolences to Jenny, Sean and family, their immediate relatives and all his multitude of friends."
In his programme notes written a few weeks ago, Leamington FC chairman Jim Scott said: "Quite simply Mick was 'Mr Leamington' and without his drive, determination and foresight it is unlikely that there would even be a Leamington Football Club.
"Mick was a true gent who always had time for everyone and could never walk down the centre of the town without stopping to speak to many.
"I was speaking with his son Shaun today who stated that when he was a lad he used to think 'come on Dad' when Mick used to stop to speak to yet another passer-by and added what I would give for that to be the case now.
" Mick's wife Jenny, Yvonne plus Shaun and his family have suffered a terrible loss in Mick's passing but can take a little comfort that Mick's was a life that made an imprint on so many others and he will not be forgotten."