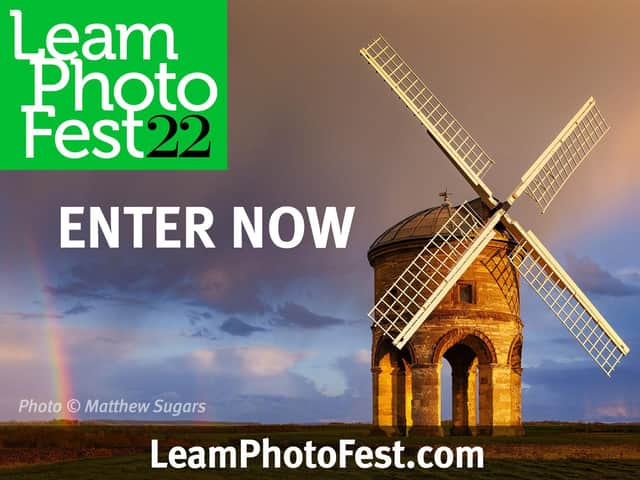 A poster for Photiq's Leam PhotoFest event. Picture by Matthew Sugars.
An artist-owned photography gallery in Leamington is hosting its second consecutive annual public festival.
Photiq, in Park Street has launched Leamington PhotoFest, which will run through the summer into autumn.
The Leam PhotoFest competition welcomes online submissions of photography from all UK residents.
Entries are divided into two categories, Under 16 and Adult.
Photos can be made on any kind of device, but all photos must have been created since January 2020.
There is no limit to the number of entries an applicant can make.
All submitted photos will be judged by a panel of experienced British photographers and artists.
This year's judges are Nat and Ruth Coalson of Gallery Photiq, Leamington floral artist Sarah Horne, Warwick-based photographer Ray Spence, and London photographer LA Creativity.
Up to 100 photos will be selected for a public exhibition at Gallery Photiq and other venues in and around Leamington from Tuesday November 1 to Sunday December 4.
The images will be printed and mounted for display by Photiq's director and master printer Nat Coalson using printers and papers provided by Epson UK.
Nat said: "Following on the success of last year's event, we have decided to expand the focus and reach of the event by allowing the inclusion of photos made anywhere in the world.
"We're only halfway through the entry period and we already have more entries than for all of last year.
"We're thrilled to share these creative visions from all kinds of photographers."
A variety of awards will be presented to the creators of selected images, with a prize given to each winning photographer.
Several other awards will be given in special categories including Best of Leamington, which is sponsored by BID Leamington and a People's Choice award, which will be chosen by public vote held during the gallery exhibition.
The Gallery Choice award will also be presented, with the selected photographer being offered a solo photography exhibition at Photiq in 2023.
Along with BID Leamington, numerous other businesses are providing support for the event including Bistrot Pierre, Core, Grow Marketing & Media, and Jones Family Jewellers.
Further sponsor support is being organised, which is expected to add to the range of prizes offered.
Online submissions are being accepted until Sunday October 2.