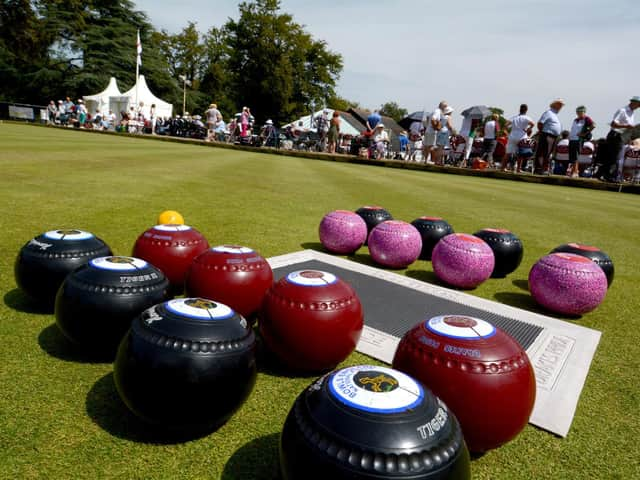 Bowls at Victoria Park bowling green in Leamington. Photo supplied.
Nearly £1.8million is to be spent on sprucing up Leamington's Victoria Park and other areas in the town ahead of the 2022 Commonwealth Games when it will host some of the world's leading bowlers.
Some of the cash, which has been awarded by the Coventry and Warwickshire Local Enterprise Partnership (CWLEP), will also go towards improved signposting to the venue from the town's railway station.
Victoria Park will host the lawn bowls and para bowls events at the next Commonwealth Games and thousands of spectators are expected to pour into the town to enjoy the action.
Cllr Andrew Day, leader of Warwick District Council, said: "The clock continues to count down the days until athletes and visitors from across the Commonwealth will visit for an exciting fortnight of international competition and community celebrations in 2022.
"While this council's immediate priority is our response to the coronavirus pandemic, we have not lost sight of securing a lasting legacy from hosting the Commonwealth Games in
Royal Leamington Spa by helping to provide more sustainable transport options for the benefit of future generations."
Further details of how the money will be spent will be released in the coming months but Nick Abell, interim chair of CWLEP, said the games would be huge for the town.
He added: "The Birmingham 2022 Commonwealth Games will put Royal Leamington Spa on
the global stage with thousands of spectators arriving at the town's railway station.
"It is proposed that the allocation from the Local Growth Fund will be used to improve the public realm space and areas around Leamington Spa Railway Station as well as enhance wayfinding for visitors linking the station to Victoria Park and town centre.
"The funding will also enhance the existing bowling greens and buildings within Victoria Park to provide world class facilities for players, officials and visitors alike."
Lawn bowls has been included in the Commonwealth Games since the 1930s when they were known as the British Empire Games. The only exception was in 1966 due to the lack of bowling greens in Kingston Jamaica.
South Leamington Green Party Councillor Jonathan Chilvers added: "It's great news that this bid has finally been successful after two years – congratulations to all involved.
"This is now a fantastic opportunity to create a larger pedestrian area outside the front of our railway station, making it safer and more welcoming.
"As the designs are finalised I'll be pushing for excellent pedestrian and cycle access, including via the underpass, and for the inclusion of an electric taxi rank and e-bike hire.
"I'm looking forward to seeing a railway station we're proud of for the 2022 Commonwealth Games and well beyond."