Miracle dog from Warwickshire who was saved from certain death is now up for national award
At the end of the hunting season in Spain, the rescue dog was discarded with a gaping open fracture to head inflicted on her by her hunter owner.
Watch more of our videos on Shots!
and live on Freeview channel 276
Visit Shots! now
A miracle dog from Warwickshire who was saved from certain death is now up for national award.
The family of the rescued Spanish Galgo hope her story raises the profile of rescue dogs and their ability to bounce back from the darkest of circumstances.
Their inspirational story also highlights the unique ability of dogs to touch and make a positive impact on the lives of those they meet.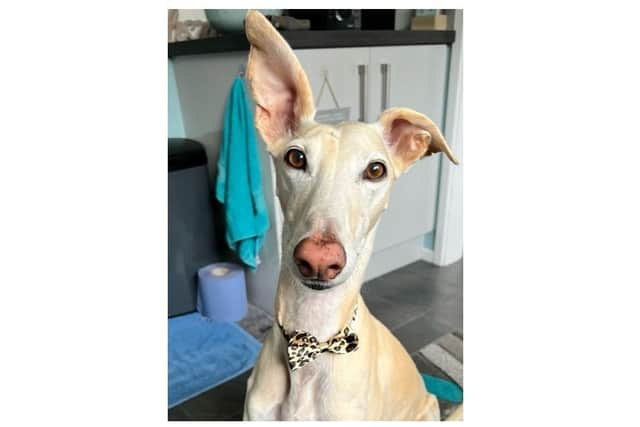 The annual Woof & Well Award, launched by pet food company, Vet's Kitchen, is now in its third year and aims to recognise the powerful contribution dogs have made to their owners' and others' mental health and physical wellbeing.
Fay and Darrin McCallum, both 56, from Nuneaton, adopted Milagro through Greyhound Protection when she arrived in the UK from Spain in 2016. As a Spanish Galgo, or Spanish Greyhound, she was bred to hunt hares. At the end of the hunting season, Mila was discarded with a gaping open fracture to head inflicted on her by her hunter owner.
"To survive such a devastating blow to her head is nothing short of a miracle," says Fay.
"Her name, Milagro, means 'miracle' in Spanish and at just eight months old, Mila proved to be a fighter and a survivor."
After being taken in by a local dog refuge in Spain and her horrific injuries treated, Mila arrived in the UK and Fay and Darrin knew instantly that they wanted to give this special girl a safe forever home. Since landing on her paws with her new family seven years ago, Mila has embraced life and seized every opportunity that has come her way. She has been a loyal family member, a much-loved community member, an avid fundraiser and a tireless ambassador for her breed and their plight back home in Spain.
"Mila's support has been invaluable to me after my diagnosis of type 2 diabetes," says Fay. "She's been my inspiration to exercise and get out more. The thought of this potentially life changing condition left me very fearful but with her by my side and some lifestyle changes, I am now much healthier and have managed to lose weight too!"
Beyond her front door, Mila has attended Crufts on several occasions to introduce people to the Spanish Galgo and raise awareness of the harsh reality of the breed bred purely for hunting in Spain and then brutally discarded.
Despite her start in life, Mila loves everyone and has become a firm favourite at Glendale Primary School where she brings joy and smiles to the pre-school children. Her friendly and gentle nature has helped some of the children overcome their hesitancy and to build their trust around dogs.
East Midlands Dog Rescue have benefitted from Mila's fundraising efforts where she draws a crowd to tombola stalls with her funny antics and quirky ways. Mila has also supported Pup Aid, the anti puppy farming campaign launched by Marc Abraham. Held in London at Primrose Hill, Mila won the Pup Aid Bravest Dog award and went on to be crowned Best In Show at the prestigious event.
Adding to her accolades, Mila won the Survivor award at the 2021 SuperDog Awards, presented to her by Stacey Dooley at the star-studded event. The award recognised dogs who have demonstrated resilience, gone through trauma and fought their way back.
"To spread the word about Spanish Galgos and how wonderful they really are is just so rewarding," says Fay. "She has the most wonderful sense of humour, making us laugh every day! Her fighting spirit and her love of life is inspiring and our incredible bond is unbreakable."
Laura Shears, MD of Vet's Kitchen, said: "Humans and their canine companions have always made for a winning team. That's why our Woof & Well Award is so important and why each year we want to showcase the wonderful stories of dogs who have provided emotional support simply by being there. Inspirational dogs like Mila who, despite their start in life, have given tirelessly to brighten the lives of those they meet."
Vet's Kitchen's Woof and Well Award is looking for tales of everyday canine heroism from owners who want to thank their dog for helping them and their family feel better; dogs who have proven their worth as part of a family or the wider community.
Mila has been shortlisted for the 2023 Woof & Well Award and the winner will be announced during the first week of August.