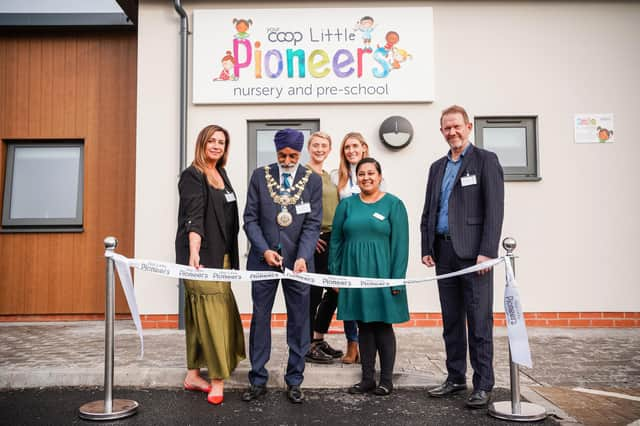 From left to right: Sally Bonnar, chief operating officer for the Childcare Group at The Midcounties Co-operative, Parminder Singh Birdi, Mayor of Warwick, Leanne Potts, Nursery Manager, Emily Sandilands, Growth and Acquisitions Manager for Midcounties Co-operative, Naz Banu, Deputy Nursery Manager, Phil Phosonby, Group CEO for The Midcounties Co-operative. Photo by Matt Hyde Photography
Your Co-op Little Pioneers Warwick Gates nursery – located in Lower Heathcote, in Vickers Way – was recently opened and attended by representatives including the Mayor of Warwick Parminder Singh Birdi, Phil Ponsonby (group CEO for The Midcounties Co-operative), Sally Bonnar (COO for the childcare group at Midcounties) and Leanne Potts, the nursery manager.
The Midcounties Co-operative gave £900,000 towards the project, which will fund interactive tables, a garden, CCTV, air con, and a kitchen.
The nursery is the second Midcounties Co-operative owned nursery in the area.
Leanne Potts, nursery manager at Warwick Gates, said: "We are so proud of our new nursery in Warwick.
"The children are settling in really well and enjoying their amazing new indoor and outdoor spaces.
"Demand has been really high, helped by our reputation at our Leamington nursery, and I am excited for the team to support all our new children to achieve great things."