NHS staff across South Warwickshire to be encouraged to attend workshops to help them to be nice to each other
NHS staff across South Warwickshire are to be encouraged to attend civility workshops to help them to be nice to each other.
Watch more of our videos on Shots!
and live on Freeview channel 276
Visit Shots! now
Glen Burley, chief executive of the South Warwickshire NHS Foundation Trust, told this month's [DEC 2] board meeting that figures showed that when someone was rude, 80 per cent of recipients spent time worrying about it with a quarter of them taking it out on service users.
He explained that a presentation from Dr Chris Turner, an NHS consultant who founded the national Civility Saves Lives Campaign, had prompted the decision to start the campaign.
Mr Burley said: " I feel that the pressures our staff will face this winter creates the perfect moment to start a campaign which will be based on the simple reality that almost all excellence in healthcare is dependent on teams, and teams work best when all members feel safe and have a voice.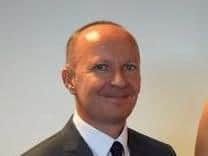 "Civility between team members creates that sense of safety and is a key ingredient of great teams. Incivility robs teams of their potential. Incivility has been shown to reduce team functioning, clinical decision making and patient outcomes.
"But rudeness takes many forms. Sometimes it is very obvious, such as the way that people speak to each other but sometimes it's subtle such as showing disrespect by being late for meetings, not concentrating when others are talking, or belittling or undermining.
"So we will be running some workshops and encouraging all of our staff to take the simple step of being nice to each other, to recognise and celebrate the great things that we do together and also to celebrate the amazing diversity of our teams."
Elsewhere in his board report Mr Burley explained that staff will be given a supply of lateral flow coronavirus test kits, which give results after just 20 minutes, so that they can test themselves twice a week at home.
And he added: "We have now also had our additional supply of rapid testing equipment which will be deployed in the hospital and which will ensure that we get a quick result for all admissions to the hospital. The one to two hour turnaround of these accurate tests will significantly help the process of managing beds over the winter."