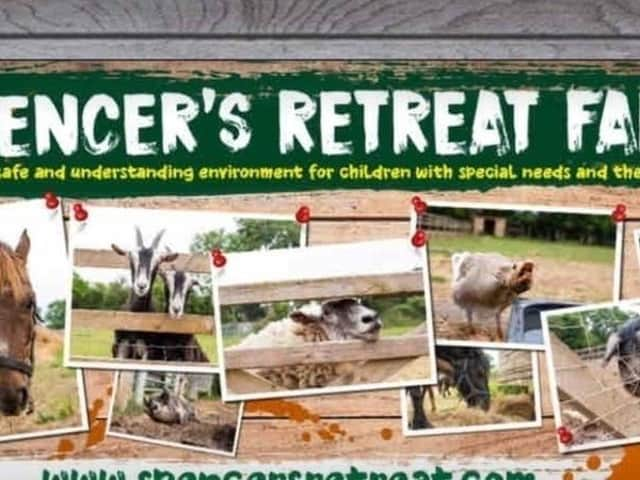 A poster for Spencer's Retreat Farm.
Supporters of a children's charity farm retreat near Kenilworth have launched a petition to urge HS2 'keep its promises' and have work to improve the site carried out.
HS2 has highlighted that its contractor - a joint venture between Laing O'Rourke and J.Murphy & Sons Limited (LMJV) - has made donations and carried out volunteer work at Spencer's Retreat Farm in Berkswell, which has included giving more than 15 tonnes of wood chip to help improve paths and walkways, donating five agricultural gates and hundreds of metres of fencing which was installed, removing and disposing old fencing creating a new 200-metre access road a new car park and a new concrete base for outside toilets.
But campaigners have said that much more had been promised and that, having expected work to be carried out by LMJV, the charity had not made applications for grants from other organisations and, subsequently, could have missed out on the work being done by other contractors.
The petition says: "Although it [Spencer's Retreat Farm} is a small, local charity, its work supports children and families across the UK.
"As HS2 commenced work in the local Berkswell and Balsall Common area, the charity approached it for support and HS2 undertook to provide extensive support and improvement work to the facilities at Spencer's Retreat so that it could better cater for the needs of families that visit in summer 2021.
"But the promises that HS2 made have not been kept and Spencer's Retreat is now left in the unfair financial position, where it is entirely reliant on the generosity of the local community's skills and resources and a plea for fundraising to pay for the materials that will enable the promised facilities to be created.
"We are asking for HS2 to provide the significant resources that they promised to Spencer's Retreat, enabling the charity to continue supporting children with special needs and creating a destination that will be a positive legacy for HS2 and their supply chain in the Berkswell and Balsall Common areas."
On top of the works already completed, HS2 said the contractors has also created new advertising signs, designed and commissioned to help Spencer's Retreat advertise its services from the roadside, along with a selfie board which visitors could take pictures in front of to share with friends and family.
A generator was loaned to help provide power to the site, and a marque was donated and decorated with fairy lights to provide a Christmas grotto for children and their families through the contractor's supply chain.
Waste was removed during works to help develop and clear the area.
But campaigners have said that the charity had been promised repairs to the track leading down to the farm, resurfacing of the car park, renovation of the stables, installation of a kitchen, sitting area, sensory room, replacement of doors and windows and the installation of a canopy for visitors to shelter from sun and rain.
They have said: "A further meeting with LMJV included their fencing sub-contractor offering to renew all the fencing down the track to the farm, around the site perimeter and splitting the fields.
"LM visited again, this time offering to revamp the natural play area with plans to landscape it, supply and install play equipment, tunnels and hills for the children and install a bird hide and nature area.
"Additionally, they proposed to create a small, decked area for parents to be able to sit on and watch their children playing, a wheelchair path around the farm, re-surfacing and enhancing the main entrance off Spencer's Lane and adding animal signage along the length of the track leading down to the farm.
"If that wasn't enough, LMJV also proposed to install mains power to the farm – bringing it onto the grid.
"The completion of the work was to be marked by a full opening ceremony this summer – with the families that use the farm being first to see the transformation.
"The proposals from HS2/LMJV were to be transformational for Spencer's Retreat – securing its future as a community asset and making it the best special needs / disabled children's farm in the UK; something Berkswell, Balsall Common, Solihull and the West Midlands would be proud to shout about and a positive legacy for LMJV and HS2.
"This was clearly a project that HS2/LMJV wanted to claim as their own, they recognised that this would have positive feedback not just locally but also nationally.
"On the basis of LMJV's proposed commitments and in line with its direct requests, the charity stood down its funding applications for the works that it was planning to do and also the proposed resources from existing corporate benefactors locally.
"This was a decision made based on LM's written commitments to the charity.
"In November 2020, LMJV finally completed the track over a two day period, resurfaced the car park and undertook part of the fencing work that they had committed to.
"LMJV then left site with an agreement to return early this year.
"By February of this year - with no response from LMJV regarding a site recommencement date - it was clear that immediate remedial work was needed to repair ground that had been churned up from LMJV's's visit and fill in gaps in incomplete fencing and gate openings.
"Finally, a Teams call at the end of February with LMJV brought the worst news - it was no longer proposing to do all of the remaining work that they had promised.
"They advised that they would do some work to the stable and complete the fencing.
"They have not come back to complete the fencing or do the remedial work to the stable.
"With just a week to go until Spencer's Retreat puts on Easter events, the farm is desperately seeking support from volunteers who can donate skills and time to progress the projects LMJV had promised to the charity.
"The charity is also in need of financial donations to purchase (kindly discounted) building materials that would have been donated by HS2's supply chain if they had kept their promise."
HS2 has said it is encouraging organisations to apply to the HS2 CEF and BLEF funds.
These funds are independently administered by community charity Groundwork UK, and support communities and businesses that are impacted by the construction of HS2.
A HS2 spokeswoman said: "Over the last 12 months, HS2 contractor LMJV has delivered a series of improvement works, made a number of donations and aided work carried out by volunteer teams to enhance the charity's facilities.
"This has included donating around 15 tonnes of woodchip to improve pathways, creating a new access road and car park, installing hundreds of metres of new fencing and five galvanised gates, and loaning a marque for a Christmas grotto for children and their families to enjoy.
"We're proud to have supported the charity's work through donating this substantial amount of labour, plant and materials free of charge."
A Gofundme page has been set up for people to make donations to the charity https://gofund.me/6047d2a6And the petition, asking HS2 and its contractor to 'make good on their commitments, can be found by searching for HS2 – Keep The Promise Campaign Spencers Retreat on the www.change.org website.