Popular Leamington coffee house is growing its presence in the town
A popular Leamington coffee house is full of beans after confirming it is growing its presence in the town.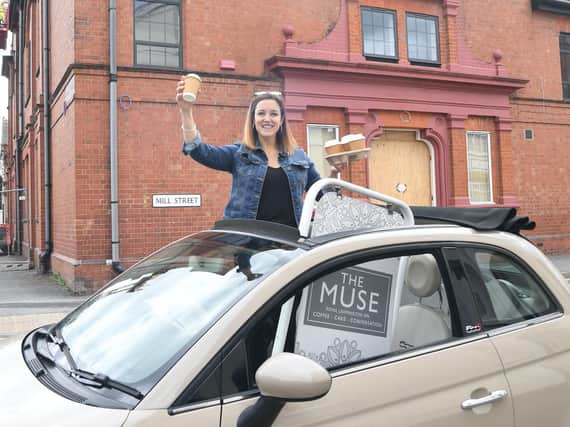 The Muse Coffee House is expanding its existing base on Regent Grove into 1 Mill Street – a next-generation co-working complex situated on the corner of Mill Street and Leam Terrace.
The coffee house will become part of a community and business hub that will feature hot desking, dedicated desks and flexible offices, a video and sound studio, meeting rooms and events spaces – all of which is set to open in the autumn.
Former theatre director and drama teacher Tracie Farren fulfilled a lifelong dream when she launched The Muse Coffee House in 2018 – which has flourished into not just a coffee shop, but a community space where groups host their talks and creative artists can exhibit their work to prospective customers.
And Tracie's business will soon be given a platform to serve even more people, as the new space at Mill Street will enable her to potentially host up to 200 people – quadrupling her capacity.
Tracie said: "What I will enjoy about being based at Mill Street is forging connections and curating a variety of events.
"Mill Street will be an inspiring place housing a variety of businesses, entrepreneurs and start ups that the Muse will be a fantastic business cafe in which to network and build community.
"We will also be developing our food offering once we have moved in the autumn with nutritional dishes alongside our treats, and we will be recruiting for a chef and a baker to reflect this.
"Corporate lunches has been a growing area for us prior to COVID-19, and the larger space in Mill Street will also enable us to grow this service even more from businesses and other groups who already happen to be using the facility.
"Leamington is one of those places that once customers discover you and like what they see, they will stay loyal, and I'm confident that this will provide the perfect foundations for me to grow the business community."
1 Mill Street is the brainchild of Kenilworth-based businessman Nigel Shanahan, alongside his wife Dessie, who approached Tracie about the idea of moving to Mill Street after sampling The Muse Coffee House for themselves.
Shanahan added: "Tracie's passion for using her coffee house as a way of bringing the community together marries very much with our vision for Mill Street, which is why we wanted to have her on board when we open our facility later this year.
"The coffee house at Mill Street is going to be a space where creative individuals, students, businesses, groups and charities can use the space to network and socialise with community at its heart."
To find out more information or enquire about flexible membership plans, visit www.1millstreet.com