Protestors hold demonstration in Leamington against Serco's involvement in test, track and trace
Protestors have gathered outside Leamington Town Hall today (August 18) to hold a demonstration against outsourcing giant Serco's continued involvement in England's test, track and trace programme.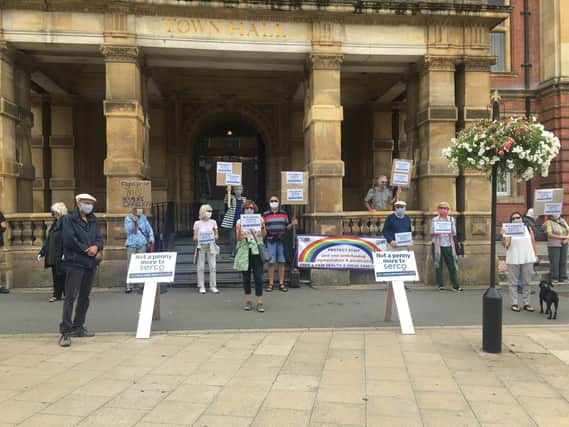 Around 20 people gathered outside the town hall between 11am and noon.
Anna Pollert of the South Warwickshire Keep Our NHS Public Group, who took part in and organised the protest, said: "The public response was sympathetic, although it is surprising that on the whole people do not know what Serco is, or the fact that it has been running Covid 19 contact tracing, and failing to do so in that they only reached around 50% of positive Covid cases' contacts - and many call handlers had nothing to do.
"When we explained to people what was happening, there was full support for us.
"We remain appalled that the government is not listening to the advice from scientists that contact tracing should be decentralised, and run by local council public health departments.
"Most members of the public were appalled when they found out what is going on, and that their taxes were going to a private company which has such a miserable track record."
Campaign group We Own It, which is coordinating the events nationally, has called for the government to not give "a penny more" to Serco.
Speaking in advance of the protests, Pascale Robinson, campaigner with We Own It said: "Serco has already received over £100 million pounds of public money.
"A privatised national test, track and trace system that disregards regional experience and has totally failed. It's not keeping us safe, so Serco shouldn't receive a penny more for their failures.
"The evidence is abundantly clear - the privatised national test, track and trace system has catastrophically failed. So it's right that the government has recognised that a new approach is needed. But a system where national call centre staff managed by a private company make the initial call and local teams can escalate later just isn't fit for purpose.
"Instead, we need a localised system run by the people who know what they're doing and can deliver it effectively.
"That means we can't continue with the farce of Serco heading up the programme.
"Local councils and Public Health England teams must be given the £302 million currently allocated for potential contract extensions with Serco.
"That's what people across the country are demanding today."
Serco has faced heavy criticism for its handling of the system.
Its record on reaching contacts in the same household stands at just 52 per cent.
The company has also been rocked by scandals throughout its contract.
In May, the company accidentally shared the contact details of 296 of its tracers, in what would comprise a breach of data protection regulations.
Staff working on the track and trace scheme have also described themselves sitting idle, without contact from their supervisors, with one claiming they worked for 38 hours without making a single phone call, instead spending the time watching Netflix.
It was revealed that Serco had been handed a £1 million fine for its management of accommodation for asylum seekers in Scotland just months before being granted the track and trace contract.
The protest also comes after recent polling found that just 15% of the public want private companies in charge of the system, compared to two thirds who think local public health teams should be.
In recent weeks a number of councils - including Sandwell, Calderdale and Preston have started the process of setting up their own test, track and trace programmes in response to the issues with the national system.
Serco has said: "Serco has played an important part in helping to reach hundreds of thousands of people who might otherwise have passed on the virus.
"Our team of call handlers has been 93 per cent successful in persuading people to isolate where we are able to have conversations."