Residents urged to clean up after themselves after littering 'epidemic' across Warwick district
Two incidents of littering and rubbish piling up have been in Warwick
Watch more of our videos on Shots! 
and live on Freeview channel 276
Visit Shots! now
Residents in the Warwick district are being urged to clean up after themselves after a littering 'epidemic'.
Over the last few weeks littering has become an increasing problem, particularly in beauty spots, parks and open spaces.
Warwick District Council is concerned about the amount of litter and will be joining a new campaign to try and tackle the problem.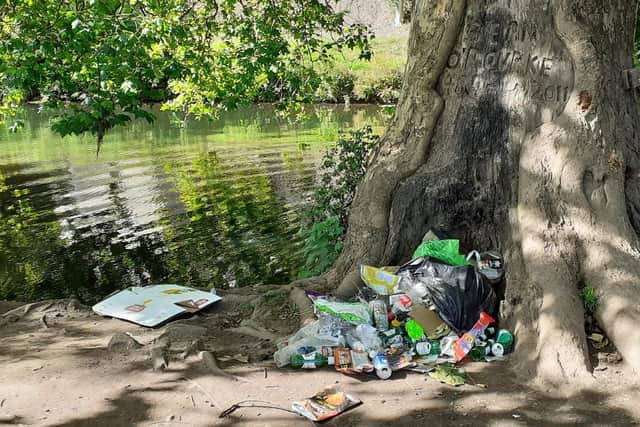 A spokesperson from the council said: "As with much of the country Warwick District Council is deeply concerned by the current litter epidemic which is blighting the district's parks and open spaces , be they publicly or privately owned or managed.
"In the coming weeks we will be joining forces with our neighbouring local authorities in a county wide 'don't be a tosser' campaign, which we hope will lead to a change in people's behaviour towards littering."
Many residents in the district are also noticing the increasing problem.
Jo Beckett contacted The Courier after she was saddened by the mess left on the Saxon Mill field in Warwick last weekend.
She said: "The litter problem that seems to have got worse during lockdown.
"People are gathering in groups at idyllic rural locations around Warwick to have parties, which results in a lot of litter: cans, bottles, disposable barbecues and food packaging – and even bandages.
"I found a really unpleasant pile of rubbish in the Saxon Mill field after a sunny weekend.
"It's a filthy thing to do, as well as a risk to wildlife.
"The selfish actions of a few individuals spoil nature's beauty for the rest of us. Do these people think it's someone else's job to clear up the mess?
"This is a public footpath on privately-owned land, and so far the police have directed me towards the council."
"Maybe the council or pub could install a big bin and signs designating it for picnic waste. Personally I will carry away any mess I make and dispose of it correctly, but some people will behave better if it's made easier for them."
Jo is not alone in her feeling towards littering and recently many residents from the Warwick area took to social media to also complain about the pile of recycling and rubbish that was mounting up in the Sainsbury's recycling area in Saltisford.
After contacting Sainsbury's about the issue, The Courier was sent a statement.
A Sainsbury's spokesperson said: "The area has been cleared and we're apologising to customers for any inconvenience this may have caused."