The Parking Lot Social Winter Festival, taking place in car park A at the venue between Saturday 19 December and Thursday 24 December, will cater for around 150 vehicles per event and have a 60ft rainbow-coloured Christmas tree at its heart.
The drive-in event has been designed with social distancing in mind, and, as such, is able to go ahead in Tier 3 regions under the government's latest Covid-19 guidelines.
Day one (Saturday 19 December) kicks off with showings of The Polar Express, Home Alone and Elf, before concluding with a comedy night for adults.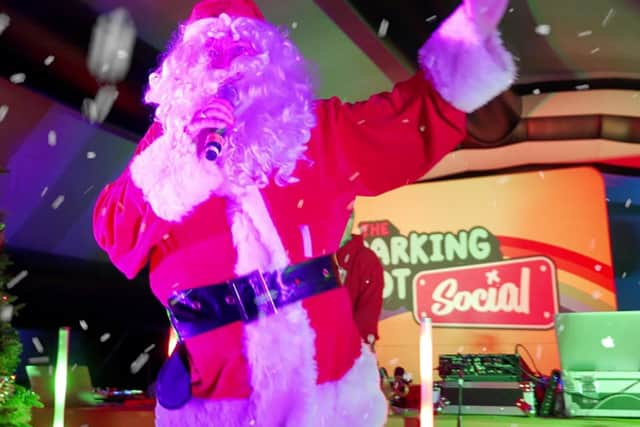 There's a movie marathon on Sunday 20 December with family favourites such as The Grinch, Frozen, Home Alone 2 and Love Actually all being screened. All films will be broadcast on 40ft screens and will have a DJ/MC to provide some pre-film entertainment with music and games.
A social kids Christmas party takes place on Monday 21 December where Santa Claus is hosting two hours of immersive fun featuring a silent disco, car-a-oke, an interactive quiz and party bingo.
A professionally produced live production of Cinderella is also being performed on Tuesday 22, Wednesday 23, and Thursday 24 December, and will be broadcast across two massive screens to ensure that the stage and cast are visible from every part of the car park.
Visitors will also be able to indulge in a Christmas food market, where visitors can order their festive favourites via a dedicated app and have it delivered to their car.
Josh Kinnersley, from The Parking Lot Social Winter Festival, said: "If someone had said to us we'd be planning a socially distanced drive-in Christmas party at the start of 2020, we would never have believed them!
"This year has been a huge strain for anyone working in the arts and events industry, so we want to do everything in our power to showcase how we need our comedians, actors, musicians and film-makers now more than ever.
"This event is designed to give people something fun and light-hearted to look forward to amongst all this uncertainty, and we can't wait to see everyone coming together in spirit and celebrating Christmas in style!"
Paul Michael, Commercial Director at Ricoh Arena, added: "As a venue we have tried to think outside of the box to find ways that we can help families enjoy the festive season in a Covid-secure way, and The Parking Lot Social Winter Festival provides just that.
"This six-day programme of events follows hot on the heels of a separate drive-in Christmas pantomime we will be hosting - which has really captured people's imaginations - so we would urge those interested to get their tickets early to avoid disappointment."