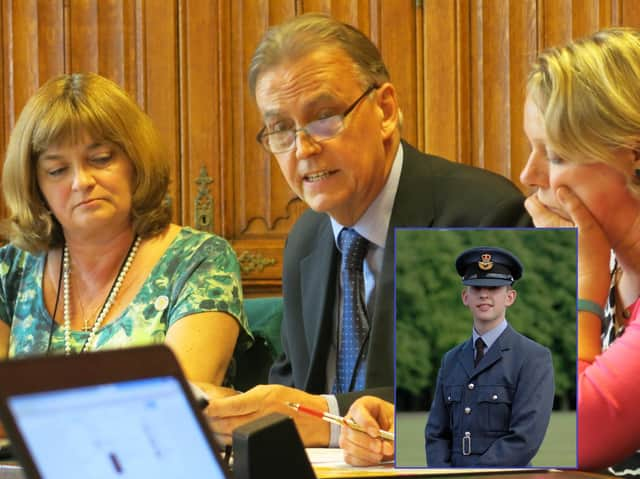 Peter Realf and, inset, his son Stephen. Images copyright of Brain Tumour Research/Realf Family.
A Rugby man father who lost his only son to a brain tumour is demanding to know how a multi-million pound investment which was promised to help find a cure for the disease has been spent.
After the death of his son Stephen, a trainee RAF pilot, Peter Realf and his family led a campaign which resulted in a Government pledge to revolutionise research into brain tumours in the UK with a £20m of funding from the Department of Health and Social Care (DHSC).
This was followed by a further £20m from the DHSC following the loss of politician Dame Jessa Jowell to an aggressive brain tumour in May 2018.
But two years on, Peter is asking Parliamentarians how and if any of this money has been spent.
He will be taking part in the All-Party Parliamentary Group on Brain Tumours (APPGBT) on Tuesday, July 14.
The session normally takes place at Westminster but will be held online for the first time because of Covid-19.
Working with the charity Brain Tumour Research, Peter and his family secured more than 120,000 signatures on an e-petition calling for funding.
This was followed by a Westminster Hall debate, a DHSC Task and Finish working group and the subsequent announcement of the research investment - which was to be made through the National Institute of Health Research (NIHR) over five years from March 2018.
Ahead of the APPGBT, Peter said: "Two years on, I want to know how the promised £40m has been spent and what opportunities this money might present at this time of financial jeopardy for research which has been caused by the coronavirus pandemic."
"Research gave my son hope. The campaigning we have done since Stephen died in August 2014 at the age of 26 and the impact we have had since, has given me the belief that he didn't die in vain.
"But the bold words and optimism of 2018 need to be matched by actions and those making such announcements need to know they will be held to account.
"When my son was diagnosed in 2008 his oncologist said 'who knows what we will know about brain tumours in 10 years time?
"This gave him hope; research gave him hope; he hoped things would change, improve and save him. Although they didn't, my hope for other families lives on through research."
Mike Batley, deputy director of Research Programmes at DHSC is expected to update the APPGBT on the status of the NIHR funding for brain tumour research and explain recent progress.
Sue Farrington Smith MBE, chief executive of Brain Tumour Research, said: "Since the lockdown began, our charity has suffered an income drop of more than 50 per cent and a poll of our 25 largely community-led member charities suggests their income has also taken a significant hit.
"We are obviously concerned about the economic impact of Covid-19. We may be forced to cut short-term research funding to focus on raising money for future research and are very worried that vital progress which has been made will now be lost."
Brain Tumour Research and its lead scientists are calling for one-off Government grants to research charities to prevent interruption to ongoing work which the UK research pipeline relies on.
Brain Tumour Research funds sustainable research at dedicated centres in the UK.
It also campaigns for the Government and the larger cancer charities to invest more in research into brain tumours in order to speed up new treatments for patients and, ultimately, to find a cure.
The charity is calling for a national annual spend of £35 million in order to improve survival rates and patient outcomes in line with other cancers such as breast cancer and leukaemia and is also campaigning for greater repurposing of drugs.