Rugby pub-goer behind bars for biting police officer in drunken incident
"All too often police officers and staff are subjected to threats and violence. On average in Warwickshire there are 20 assaults against police officers and staff per month"
Watch more of our videos on Shots! 
and live on Freeview channel 276
Visit Shots! now
A Rugby pub-goer has been sentenced to 12 weeks in pirson after biting a police officer.
In the early hours of Saturday, September 23, 30-year-old Jordan Staple of no fixed address was arrested at a bar in Sheep Street after appearing drunk and disorderly, and attempting to fight the security guards.
On arrival of the officers, Staple stated repeatedly to police his intentions towards the bouncer, that he was going to 'bang him out'.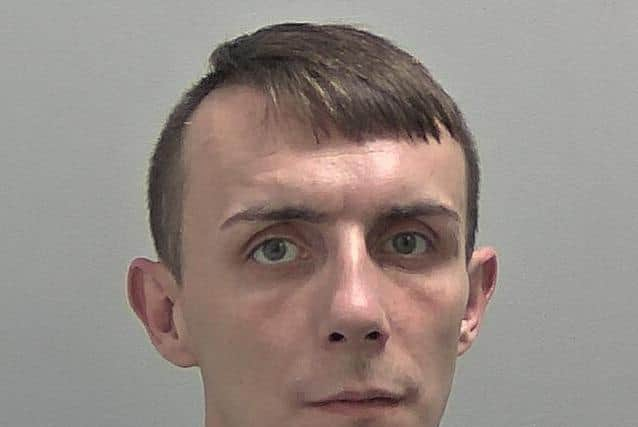 Staple was offered the opportunity by officers to go home and sleep it off. Unfortunately, he refused and found himself arrested for drunk and disorderly behaviour.
On his way to custody, Staple banged his head on the cage in the van and had to be diverted to the hospital for treatment.
At the hospital, Staple's behaviour failed to improve, shouting at one officer: "I am going to smash her face in. Don't touch my wrist, because I'll bite your finger".
Staple also threatened to smash up the hospital.
The decision was made to sedate Staple to calm him down enough for hospital staff to treat his head wounds, during the course of which he bit the finger of a police constable attempting to restrain him.
Staple would later argue in interview that this was a reasonable response, and that he had only had one pint.
On November 13 at Coventry Magistrates Court, Staple was sentenced to 12 weeks imprisonment and ordered to pay a victims' surcharge of £154 for the charges of being drunk and disorderly in a public place and assaulting a police officer.
Chief Constable Debbie Tedds said "All too often police officers and staff are subjected to threats and violence. On average in Warwickshire there are 20 assaults against police officers and staff per month.
"In this incident, Staple threatened members of the public as well as officers, and threatened to destroy furnishings within a public hospital setting.
"He was offered the opportunity to go home, but chose instead to continue threatening and causing harm to others.
"It is a shame that our officers have to put up with this level of abuse, but the outcome would have been worse had they not stepped in.
"I am happy with this final result and proud of the officers who made it possible."