Rugby School teacher joins forces with Inside the 22 bar to raise funds for Brazilian children in desperate need of help
Andy had planned to run a marathon last year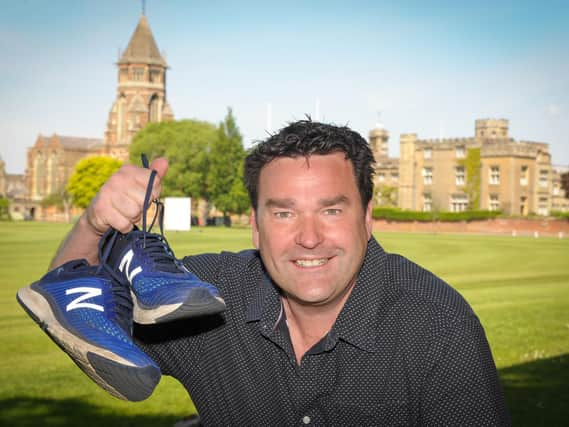 A Rugby School teacher whose 2020 London Marathon place was scuppered by Covid has joined forces with a Rugby bar 'Inside the 22' to present two exciting events in a bid to boost his charity pledge in this year's run.
Andy Chessell Housemaster of Town, the boys' day house, put the lockdown to good use by continuing to train and was delighted to be offered a second chance in the 2021 London Marathon in October.
51-year-old Andy, who is running for Task Brasil, an organisation which supports street children of Rio de Janiro, has teamed up with his school colleagues and Inside the 22 owner Oli Taylor, to stage breakfast and supper events for all to enjoy.
On June 22 supper evening guests will be treated to music from Rugby School duo Rob Colley on piano and Andy Davey on tenor sax, while School sports coach Nick Tester will provide insight into his experiences working with the children of Task Brasil.
The Saturday breakfast event will take place on June 26.
Working in education, in a pastoral position, Andy, who also teaches Drama and lives in Town House in Horton Crescent, said he is passionate about giving children the best start in life.
He said: "I am fortunate enough to be in a well-resourced school with an amazing team of professionals.
"Despite the recent world crisis, our students have continued their education with support both in person and online.
"Unfortunately, not everyone has been so lucky. Brazil has been one of the worst countries affected by the virus.
"As you can imagine, Task Brasil faces extreme challenges, they have few resources and my overwhelming wish is to raise funds to support them.
"I hope people will come and support these events which will help to dramatically improve life for these children."
Oli said he was delighted to join forces with Andy to organise two great events for the community while raising money for such a worthwhile cause.
He said: "We are very happy to support Andy and looking forward to welcoming people to these events
which will be good fun with great food.
The Task Brasil supper event will be held on June 22 from 7pm and the breakfast even on June 26 at 8.30am.
Both events are £20 per ticket, which includes a donation to Task Brasil, and can be booked on 01788 221 408.