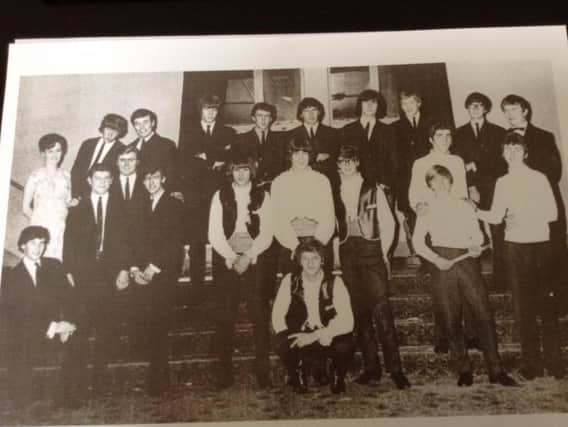 Most people perhaps wouldn't have noticed, but if you had been waiting at the Churchover bus stop on an early Friday evening around 1964, then you might well have observed a lipstick-plastered van draw up opposite Rugby Clocktower.
You would then, like a certain 15-year-old Lawrence Sheriff schoolboy, have observed the van's slide doors opening, and a long-haired lad clutching a bass guitar climb into the vehicle, which then drove off in a cloud of blue exhaust smoke.
The van belonged to the Beat Preachers, at that time Rugby's premier rock group. And the lad with the bass was Stu Colman, who had probably walked the few hundred yards from his flat in Bath Street to keep the rendezvous with his band mates.
The Beat Preachers – known back then as the 'Midlands' answer to the Rolling Stones' – were at this time gigging almost every night of the week.
Whenever they played the Benn Memorial Hall in their home town, news of a forthcoming gig spread like wildfire, such was the popularity that surrounded this exciting rhythm and blues outfit.
Sadly, the Beat Preachers' sun set all too soon. But for that young bass player, it was just the beginning of what would prove to be a glittering career in rock 'n' roll.
Ian Stuart Colman was born on December 19, 1944, to a musical family in Yorkshire. In his late teens, he headed south to find work, and ended up at Coton House, near Rugby, which was then a hostel for AEI apprentices.
But it was not long before Stu encountered the burgeoning Rugby musical scene, and before very long, it became clear where his loyalties lay.
And that was with rock 'n' roll…
The Beat Preachers eventually became The Caribbean, which in the view of many fans, was a disastrous move.
The Caribbean was destined to sink without trace, but this was a minor setback for Stu, because he was soon snapped up by Pinkerton's Assorted Colours.
Apart from the Fortunes, which Coventry has always claimed as being their own, the 'Pinks' were undoubtedly Rugby's top band of the 1960s, with their hit Mirror, Mirror getting into the Top Ten of hit records during the spring of 1966.
By the end of the decade, the band – now renamed Flying Machine – would go on to have a million seller with Smile a Little Smile For Me, on which Stu played bass.
But for Stu, there were even bigger fish to fry. For he then went into record production with emerging star Shakin' Stevens, his steady hand now forsaking the fretboard for the control board to create hits such as Hot Dog, Marie, Marie, This Old House and Green Door.
By this time, the music business had really woken up to the man's talents.
Over the next few years he would work with Billy Fury, Alvin Stardust, Little Richard, Phil Everly and Jeff Beck, to name but a few.
In the early 1970s, he jointly organised a march to the BBC, protesting about the lack of rock 'n' roll music on Radio One.
To his surprise, the corporation took him on as a presenter, headlining his own weekly show.
This show, broadcast on Saturday afternoons, proved to be a great success with the fans of early rock and rockabilly, not only playing music of the genre, but also providing a platform for emerging bands adopting a style that was then undergoing a renaissance.
Producing hits for artists as diverse as Kim Wilde and The Jets, he was also in great demand as a rock journalist, writing for Melody Maker, later publishing a best-selling book called They Kept on Rockin'.
And because of his love of comedy recordings, he was asked by the comedian Ben Elton to produce the inaugural Comic Relief record and Living Doll, featuring TV's The Young Ones along with Cliff Richard.
He also worked with Elton John, U2, Eric Clapton and Soul II Soul.
Latterly, he relocated to Nashville, Tennessee, where he worked with some of the top names in country music.
A few years ago, I met up with 'Pinks' songwriter Tony Newman in Churchover, who regaled me with this wonderful anecdote.
Tony had been visiting his ex-band mate in Nashville, and Stu decided to phone for a takeaway meal.
A few minutes elapsed, and the doorbell rang.
Commenting that the food must surely have arrived in record time, Tony went to the door, and was met by a stocky, middle-aged man with a greying beard.
"Have you brought our takeaways?" Tony inquired. "Hell, no," the man replied. "I'm Duane Eddy and I've come to see Stu about my latest record!"
In his later years, Stu Colman had returned to Britain and was living in the Cotswolds when he was diagnosed with oesophagus cancer. The disease caused his death on April 19, 2018. He was aged 73.
But for many people, Stu Colman's name will always be immortal, his enduring legacy being the creation of some of the finest music of the rock 'n' roll era. Yes, gone… but never forgotten.
John Phillpott's book about his days on the Rugby Advertiser during the 1960s titled Go and Make the Tea, Boy! is now on sale.