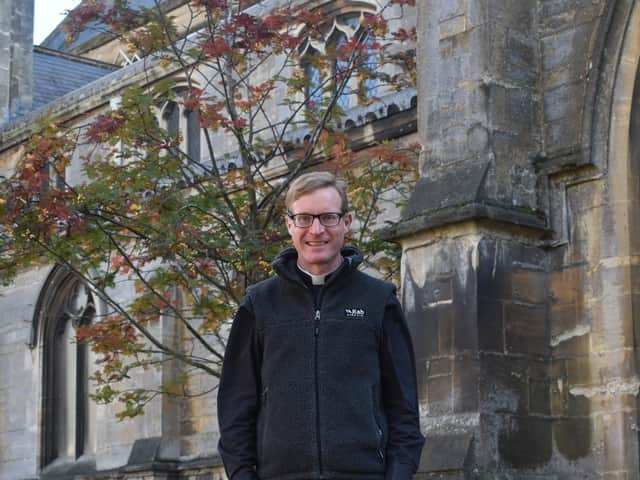 The Revd Canon Edmund Newey.
Rugby's new Rector sat down for a chat with the Advertiser this week to share how the first months of his new post have been going.
The importance of the Christian faith in times of suffering, the extensive work being done on the gardens and the hope for more live music at the church were among the topics discussed.
In July Reverend Canon Edmund Newey began as the new Rector of St Andrew's in July, having previously been the Sub Dean of Christ Church in Oxford.
Rev Newey replaces Reverend Imogen Nay, who was last year Canon for Evangelism and Discipleship at Chelmsford Cathedral.
On his first three months in the town, Rev Newey said: "It's been great to be a St Andrew's, I'm really enjoying working at a church that's in the heart of the town.
"Principally, what I'm here for is to lead the spiritual and clerical work of St Andrew's - that means I will be doing a lot in terms of meeting with people.
"That goes back to my calling as a priest, which is to love people, working with them and meeting them."
He said coronavirus restrictions mean he has not yet been able to meet all the people he would like to, but he and his family are exceptionally thankful for the warm welcome that Rugbeians have given them.
Speaking on the record of Rev Nay, he said: "My predecessor Imogen Nay was a really lively force for good here, and I'm excited to be able to carry on that work.
"Part of that is carrying on with the work on the gardens, creating a space outside to provide something beautiful and peaceful for the people of Rugby."
"Another part is working with the other churches in the town through Rugby Revive, which is clearly a huge force for good.
"It's really important to work alongside other groups and organisations, whether they are religious or secular."
Rev Newey said he has noticed that the impact of coronavirus has prompted more people to be open to having discussions about life, death and spirituality.
He said: "Individually and collectively we are going through a trauma.
"I do think people are more open to conversations on the areas of life that, usually, people shy away from.
"That includes illness, mental health, death and spirituality.
"People need ways to cope with the pain - Christian belief and Christian practice has a lot to teach."
Rev Newey said he has been pleased to see a gradual return of services and music at the church.
"It was quiet for six months, and that was sad for everyone," he said.
"With the return of the choir and the instrumentalists we have again heard the church ringing out with music - and that's what it was built for."
In the long term, he said the church is exploring ways to open up the space a little more to accommodate live music, taking advantage of the building's wonderful acoustics.
In recent weeks recitals have once again been hosted at the church - one a pianist and another a recital of classic songs from musicals.
The Thirteen Bells Cafe has also reopened to serve residents on Fridays from 9.30am to 1pm and Saturdays from10am to 12pm.
Some in-person services have resumed, with those expected to be busiest having a telephone booking system.
"We are what you would call a 'covid-secure' venue," Rev Newey said.
"So all social-distancing measures are observed and we make sure we limit the number of people inside."