Tours of Warwick's historic Court House will return this Easter
The team at Unlocking Warwick has been conducting the tours at the court house building since it was restored in 2014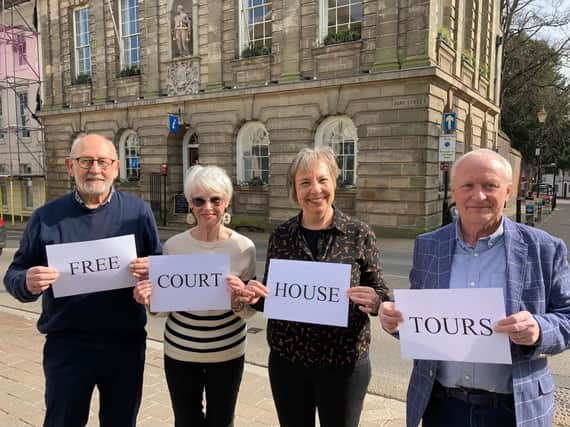 Tours of one of Warwick's historic buildings will be resuming later this month.
From Easter Saturday (April 16), Unlocking Warwick, the town council volunteers, will be resuming their free Court House tours for visitors and residents.
Between 11am and 11.45 am, those taking part will stroll around the Grade I listed building on the corner of Jury Street and Castle Street – the Old Court House, Town Hall and Visitor Centre – while guides tell of its construction after the Great Fire of Warwick, and introduce visitors to the 1,100-year history of the town.
The chair of Unlocking Warwick, Karen Parker, said: "During the tours, the guides will tell stories of some of the big personalities that shaped Warwick after its founding in the 10th century by Aethelflaed, the Anglo-Saxon Lady of the Mercians.
"Why, 600 years, later were the town's burgesses ejected from their Guildhall at the Westgate by Robert Dudley, Earl of Leycester and obliged to move to the present site?
"And how did the Great Fire of Warwick in 1694 change the face of the county town?
"We'll hope to give guests a quick look at the lovely Regency ballroom in the Court House, which was constructed by the renowned local architect, Francis Smith nearly 300 years ago.
"We have been conducting these tours since the building was restored in 2014, and we know they are much appreciated both by visitors from far and wide, and local residents who want to know more about the Court House and their home town.
"After Easter, The Court House tours will be on the first Saturday of each month and on bank holiday Saturdays throughout the summer.
"There's no need to book. Assemble in the Visitor Information Centre at 11am. But numbers will be limited so it is a case of first come, first on the tours."
You can check that a tour is going ahead by calling the visitor centre on: 01926 492212 or for more information on Unlocking Warwick go to: https://www.unlockingwarwick.org/