Two women — one in her 80s — and three children all under the age of six were seriously injured in a head -on crash near Daventry last night.
All three toddlers, aged four, five and six, were passengers in a Mercedes which collided with a Hyundai on the A361 near the village of Ashby St Ledgers.
The driver of the Hyundai, a woman in her 80s, and her passenger were both rushed to University Hospital in Coventry.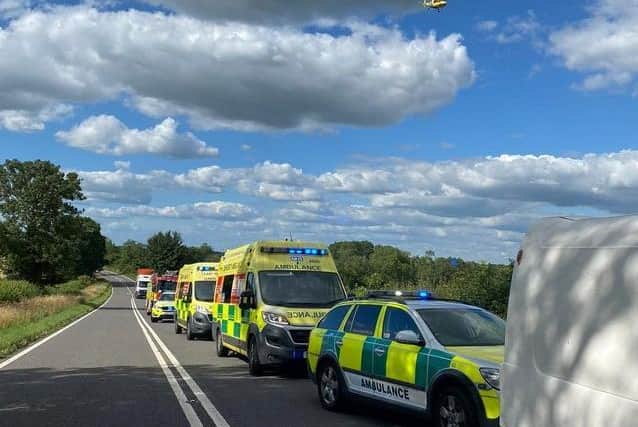 Police revealed the driver of the Mercedes, a woman in her 40s sustained minor injuries but all three children were also taken to University Hospital.
Two air ambulances were scrambled to the scene along with paramedics and ambulances and the road was closed while emergency services dealt with the incident.
Northamptonshire's Serious Collision Unit have launched an investigation into the crash on the stretch of road which links Daventry and the A5 near Kilsby.
A Police spokesman said: "Officers are appealing for witnesses following a serious road traffic collision on the A361 Ashby Road, near to Ashby St Ledgers, at about 3.35pm on Sunday (July 19).
"The collision occurred between a silver Hyundai i30 car and a black Mercedes E220 car, travelling in the opposite direction.
"As a result of the collision, the driver of the Hyundai and her passenger – a woman in her 60s — sustained serious injuries and were taken to University Hospital Coventry.
"Our officers would like to hear from anyone who may have witnessed the collision or who may have dash cam footage of the incident. Please call the Drivewatch Hotline on 0800 174615 or Northamptonshire Police on 101, using reference number 334 of 19/07/20."