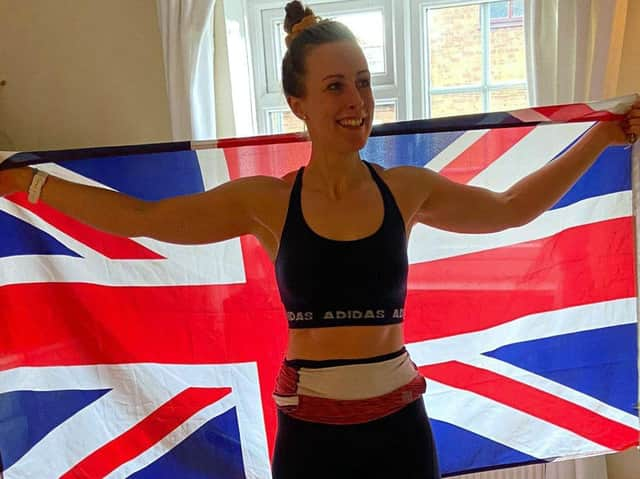 Olivia Joyce has won a silver medal the World Indoor Rowing Championships. Photo supplied
Olivia Joyce, who took up rowing at Warwick Boat Club only five years ago, has won a silver medal the World Indoor Rowing Championships – without leaving her living room.
The 31-year-old won her medal with a personal best time of one minute 40.9 seconds in the women's lightweight (30 -39 age category) final in the four-day championships in which 935 rowers competed from 63 countries.
The indoor championships, which were to have been held in a velodrome in Paris were called off because of the pandemic.
Instead a global virtual event was held in real time with live races across several time zones.
Competitors plugged their rowing machines (ergos) into a laptop and logged in for their race. The screen gave a countdown to the start and the organisers could detect whether or not there was a false start.
During the races the rowers could see on screen how many metres they were in front or behind other rowers.
"The silver lining of the lockdown was that I was able to work from home," said Olivia. "I trained between 60 minutes and 90 minutes every day with one day off a week. The training
was mainly, strength, weights and cardio.
"The biggest part of my training was to lose weight to get into the lightweight category, otherwise I would have been competing against women up to 30kg heavier than me who would be about 10 seconds faster.
"So I pushed my body really hard when eating a maximum of only 1,700 calories a day. But it was worth it – I lost six kilograms to make the 61.5 kilogram limit, including rowing kit.
"I used the living room to train on the ergo so I had to move the sofas out of the way and make sure I left the windows open because it got so hot."
Olivia, who works for the engineering department at Warwick University, said: "The 500 metres is a short race so you have to train to go flat out from the start and settle into a really high rate.
"I practised over 600 to 700 metres so I could treat it as sprint. A fast start is vital so I practised the start for hours and hours."
She added: "It was fantastic to get the silver because I achieved a massively improved time to get my personal best. It really mattered because there was only two-tenths of a second
between me and the rower who came fourth.
"I must admit I missed competing in Paris with all the adrenalin, the cheering of colleagues, and the presentation on a podium - instead I got the medal in the post.
"After the race at home I just had a shower and walked the dog."
Within three years of completing a learn-to-row course at Warwick Boat Club – which also caters for tennis, squash and bowls – Olivia was competing with a crew at the Women's Henley Regatta.
Last December she won a gold medal in the British Rowing Indoor Championships with a personal best of 1.41.4.
She said: "A few weeks later I shaved one-tenth of a second off that time, submitted a video for the world championships, and got into the top 10 fastest rowers in order to qualify for the event.
"But improving my personal best by another half a second in the actual world final was massive for me."
Sam Wesley, Women's rowing captain, said: "Olivia's success is outstanding and could only be achieved at this level with her dedication and commitment to a brutal training programme.
"Definitely worth the entire Victoria sponge cake she ate to celebrate."