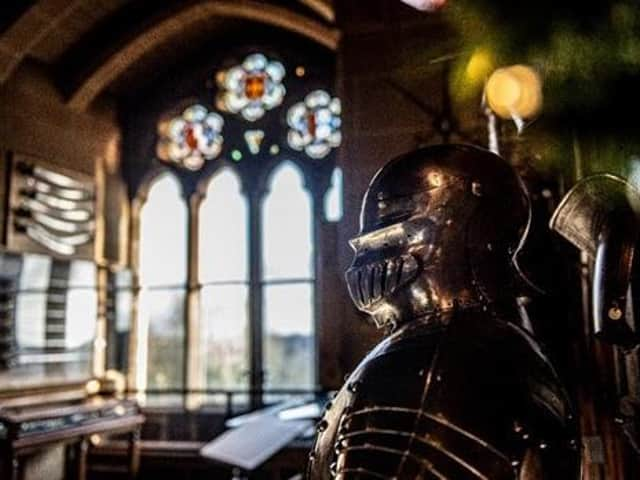 The D&D Adventure will be hosted in the Great Hall of Warwick Castle. Image by Warwick Castle
Warwick Castle and its partners have announced they'll be working with Wizards of the Coast to provide a special Dungeons and Dragons Adventure, featuring professional Dungeon Master Mark Hulmes (High Rollers, Critical Role) for Red Nose Day 2021.
Hosted by Comic Relief, the prize draw will run until April 4, offering D&D and Warwick Castle fans alike the chance to win two-day experience, with an overnight stay in the Knight's Village.
The Warwick Castle teams say they are 'proud to be supporting such a worthy course and is grateful to all the support offered by the local community in enabling them to provide such a prestigious prize for this Red Nose Day partnership'.
They said particular thanks are given to/for:
~ Chris Hampson, Warwick Castle's Knight in shining armour, who will be the winner's host for the two-day experience.
~ Time spent creating the D&D Adventure led by professional Dungeon Master, Mark Hulmes.
~ The second day itinerary which includes archery, sword fighting and jousting tuition, from Knights of Middle England.
~ The chance to take home an exclusive, fully bespoke and handcrafted sword from the armoury at Dressed to Kill.
~ A personalised coat of arms and official Dungeons and Dragons merchandise.
Karl Ude-Martinez, Company Director of Knights of Middle England said: "This prize is truly a unique experience; it ticks every box and is overflowing with adventure.
"The lucky winners are really going to be immersed in the exciting world of Dungeons and Dragons, have the chance to learn some daring ancient warfare and become true warriors of the Comic Relief realm.
"From castles, falconry and sword fighting to archery and the opportunity to actually learn how to joust, there is so much to love about this prize.
"The best part is all donations for this prize will be raising much-needed funds for such a worthy cause – if I could enter I would.
"I encourage everyone to enter as this really is the chance of a lifetime and I cannot wait to see the lucky victors."
Chris Hampson, Warwick Castle Knight added: "I've been playing D&D all my life, to play in Warwick Castle's Great Hall will be the ultimate role-playing experience.
"As their 'personal Knight', I cannot wait to welcome the winners to experience this phenomenal prize and am exceptionally proud to be the host for this incredible event."