A Church in Warwick has launched a 'giant interactive Advent calendar'.
The team at Saltisford Church have launched the calendar to encourage residents to join them in their countdown to Christmas and to also follow the story of the birth of Jesus each day.
Situated in Birmingham Road opposite Sainsburys, the windows around the Church have been filled with giant Advent windows.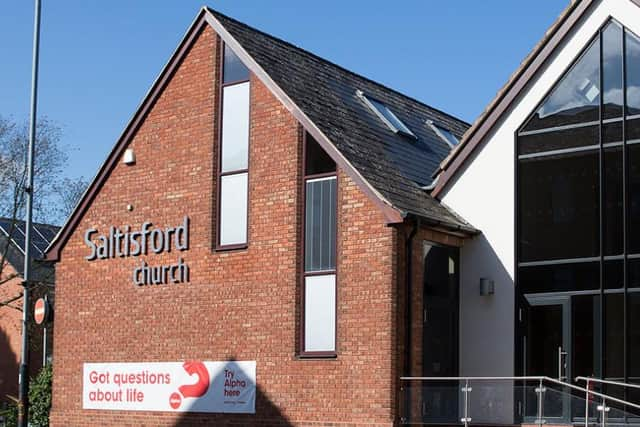 Every morning by 10am an advent window will be opened, and a new part of the story will be revealed.
There is also a competition that families can take part in.
Hidden in each opened window there will be a Christmas present with a letter written on it.
Those taking part should write down the letter from each picture and on Christmas Eve text 07890 811885 with the completed sentence and their name, to be in with a chance to win a prize.
50 winning numbers will be drawn from a hat on Christmas Day.
All the pictures have been designed and painted by members of the Church.
The Mayor of Warwick, Cllr Terry Morris, officially launched the Advent Calendar on Friday (December 4).
He said: "It was my pleasure to launch the giant Advent calendar at Saltisford Church.
"In these trying times it is great to have some fun and joy in our community as we all countdown to Christmas.
"It's not going to be a normal Christmas for us but some things don't change – the story of Christmas is a reminder to us all of that.
"The pictures are all amazing and look especially beautiful at night.
"There is even a treasure hunt in the pictures for families to enjoy together. So do come along and see for yourself."
The Mayor is also a regular volunteer at Saltisford Church Foodbank and launched the advent calendar while volunteering at the Foodbank session.
Pictures will be posted on the Church's Facebook, Twitter, and Instagram accounts daily so people can also follow along from home.