Warwick Rotarians hear about the work of Leprosy charity
Across the globe there are more than 200,000 people diagnosed each year.
Watch more of our videos on Shots! 
and live on Freeview channel 276
Visit Shots! now
Members of Warwick Rotary said they were surprised to hear that every two minutes someone is diagnosed with leprosy – a disease most thought was consigned to the Middle Ages.
Such was the fear associated with it that people affected by the disease were expelled from their communities – in Warwick the remains of St Michaels Hospital lie in Saltisford outside the town walls.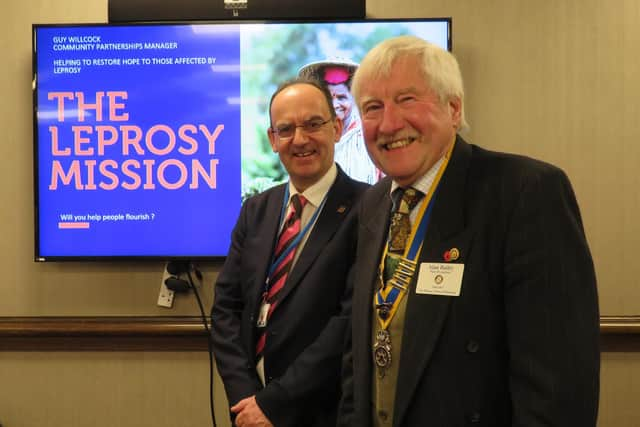 Guy Willcock from the Leprosy Mission – England and Wales, told Rotarians that despite multi-drug therapy being available since the 1980's, people often still hide the symptoms until it was too late.
Leprosy is a bacterial disease, affecting the nervous system so it does not feel pain, if untreated this leads to the loss of peripheral limbs through injury.
£24 for three forms of antibiotics administered over six to 12 months can cure people of the disease.
It can be caught by anyone but most people have a strong immune system, and would not be affected by the bacteria, boosted by good sanitation and nutrition, in the third world these are often absent due to extreme poverty.
Across the globe there are more than 200,000 people diagnosed each year in India, Brazil and Africa – with 200 cases in the USA.
The Leprosy Mission England and Wales serves ten countries – five in Asia and five in Africa.
28 Missions have established hospitals and work with governments to identify those vulnerable and provide drugs and reconstructive surgery.
The missions also deliver advocacy, education and vocational training enabling sufferers to recover some independence and earn a living.
Concerned Rotarians enquired whether a vaccine was available – apparently this is still a "work in progress" by the Leprosy Mission America. However, improving sanitation, nutrition and living conditions enhances people's immune system to 'fight off' the bacteria.
The Leprosy Mission England and Wales are currently running an emergency appeal for funding to power hospitals in Niger, deliver starvation survival packs and to continue its work.
Thanking the speaker, Rotarian Malcolm Knowles welcomed the work of the Leprosy Mission to help and contact sufferers of the disease.