Warwick's 89-year-old rollerskating hero heartened by the overwhelming support of the community
He was spotted taking on his challenge in St Nicholas Park this week
Watch more of our videos on Shots! 
and live on Freeview channel 276
Visit Shots! now
An 89-year-old man taking part in a charity challenge on rollerskates says he has been gobsmacked and heartened by the support shown by the community.
On March 9 John Wilcock kicked off his challenge of skating 90 laps of the courtyard outside his home before his 90th birthday in January 2022 - as we previously reported.
John decided to take on the task with his rollerskates and a walking frame to help raise a minimum of £500 for FareShare which is a charity that helps children and families by redistributing food that would otherwise go to waste.
For the first few weeks he did laps of the courtyard but this week he decided to go into St Nicholas Park where he brought a smile to many people's faces.
"I started on our wedding anniversary and it went slowly for the first couple of weeks", said John. "I got to almost £495 on the JustGiving page.
"Then on Wednesday (March 25) after going round the courtyard, which is a bit rough and bumpy, I decided to go to the park as it is just behind me.
"I thought I would try and get a bit of exercise in the park and I met some really nice people who were very interested in what I am doing."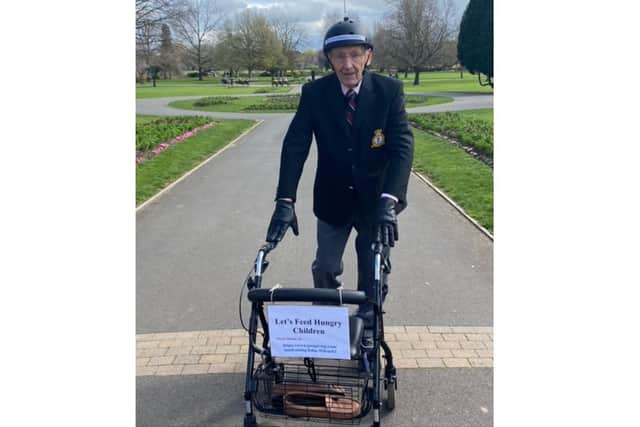 After John's skating debut in the park his fundraising page hit £3,500 in just 24 hours.
He said: "The total has gone from £495 to £3,500 - I know what I am doing has also been shared about a bit on Facebook.
"I feel a bit gobsmacked by the amount. It started with mostly family and friends and a few people who were friends of friends.
"When I set the target at £500 I knew that was a target I could reach and by the time I hit my 90th I thought I might get to £1,000 but this has really overshot that margin."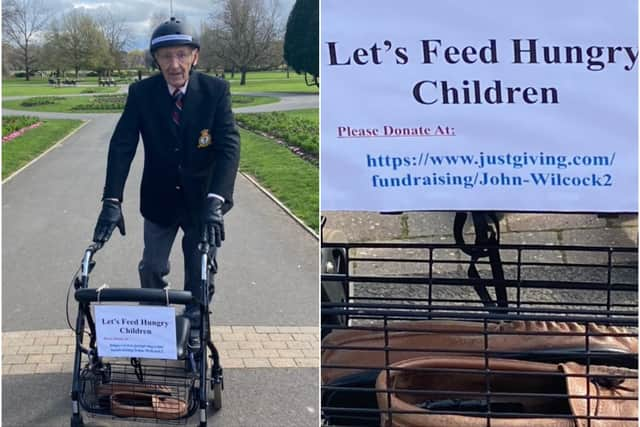 As well as getting an out-pour of donations after his park appearance John said he was also met with lots of praise from people.
"I got lots of lovely comments from people. It is humbling. People said it raised a smile when they saw me.
"Thank you to all the people who have donated and to all the people who gave me a cheer when I was in the park - it was really heartening and empowering and it gave me a real spur.
"People were saying I am a hero but the people who donate are the ones who are heroes and the people who work at Fare Share are the heroes.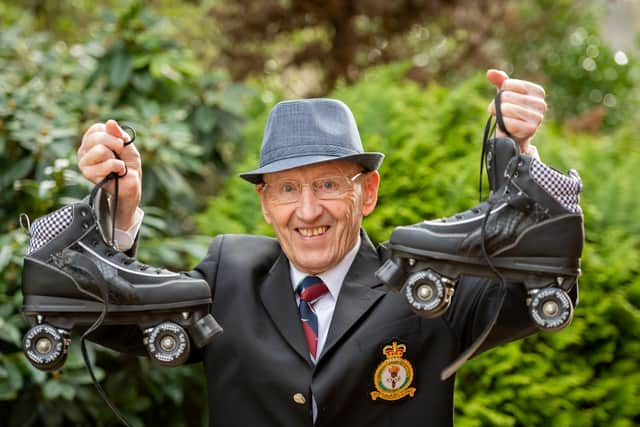 "I am not the hero. I am like the conductor of a band of instrumentalists - without them I would be a lunatic waving his arms about!"
John is hoping that as the weather gets nicer he will be around the park more often and in summer hopes to go around the town.
"In the courtyard no one sees me so it is great to get out and get exercise and give people the opportunity to see what I am trying to do. I will be going until January so look out for me!"
Some residents have said that John is Warwick's very own Captain Sir Thomas Moore but he was quick to dispel this.
He said: "People keep saying I am Warwick's Captain Sir Thomas Moore. He was a great inspiration to me but that is as far as it goes as we are opposites in many ways. I was in the RAF and he was in the army and I am from Lancashire and he was from Yorkshire!"