Warwickshire dog trainer urges pet owners to try online training if they feel overwhelmed during lockdown
Hannah uses her own two Cocker Spaniels, Kobie and Bailey, to demonstrate to clients online so the training is both verbally and physically shown
Watch more of our videos on Shots! 
and live on Freeview channel 276
Visit Shots! now
A dog trainer in Warwickshire is urging pet owners to try taking online training if they feel overwhelmed during lockdown.
Hannah Antrobus, an award-winning dog trainer and behaviour advisor who owns Pawsitively Pawsome Pups, has issued the plea after hearing the RSPCA reporting pets are being abandoned during lockdown.
Hannah, who is based in Leamington, specialises in spaniel and spaniel cross breeds.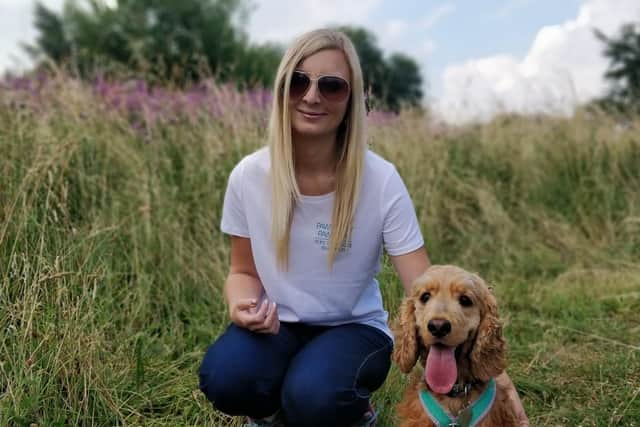 She said: "The RSPCA recently reported concerns over hundreds of pets being abandoned throughout lockdown as rescue centres and their websites are inundated with pleas from pet parents struggling to cope with their dogs through lockdown.
"I'm urging new dog owners to try online dog training to save them from giving up on their new dog, accessing online training for a new puppy is critical for them to develop and socialise.
"A good trainer can help future problems from developing and make working from home with your dog easier."
Throughout lockdown Hannah has been offering free advice to dog owners in her group 'Dog Owners in Warwickshire' which has more than 2,000 members.
She said: "I know how it feels when you bring home your puppy and you suddenly think 'what have I done?' and you end up reaching for a glass of wine
"When you get a puppy there are key training elements that need to be worked on for both you and your dog in order for you to both live happily together, if these aren't worked on as a puppy you may encounter problems with your dog as they age."
Hannah also said that with another lockdown, working from home could also be challenging.
She said: "A good trainer will be able to give you personalised tips and advice to help you work better from your home with your dog.
"We've all been there mortified on a call because your dog won't be quiet, but trainers are here to help you - not shame you.
"Under normal circumstances a dog trainer would work with you in person, but as the lockdown restrictions have increased everything is now online.
"But it still works exactly the same, and it means that new dog owners can get to enjoy their puppy instead of feeling frustrated.
"Online training has also helped existing dog owners ease new issues their dogs may be facing due to the anxiety and major changes that lockdown has brought with it.
"It's also been key to teaching dogs how to settle during important meetings, so that their owners can focus whilst working from home."
Hannah, who was awarded Prestige Central England Best in Online Pet Training Services in the first lockdown, uses her own two Cocker Spaniels, Kobie and Bailey, to demonstrate to clients online so the training is both verbally and physically shown.
She said: "Online training certainly has a lot of benefits, it's really critical that puppy owners seek advice during this critical period.
"Plus for other dogs, who may have developed some issues with anxiety or attachment through the difficult periods of lockdown online training allows the dog to feel comfortable and less worried with meeting a stranger so a trainer can really get to helping ease any problems."
Hannah also says that some advise from the internet can be detrimental.
She said: "A quick look on the internet or a chat with other dog owners can give lots of different advice with one very common and outdated idea: ''leave them to cry'.
"People may say if you go to them you will reinforce the crying or they will learn they can control you.
"Your puppy is in a brand new home with smells, a strange crate, after being taken from their mum and siblings and all it knows.
"Everything is scary and your pup feels worried.
"At eight weeks old they have zero interest in controlling you and dictating your life. They just want to feel safe themselves.
"Puppies that are allowed to cry it out will often become distressed in this setting, even if they've stopped being vocal about it.
"Research has shown this will impact their attachment styles for long term and also negatively impact the brain, emotions, digestive system, and the immune system which could lead to mental and physical health implications.
"Instead work with a trainer online who can provide you with personalised advice tailored to fit both your needs and your dogs needs."