Aged between 27 and 74, 19 people from various backgrounds will be taking part.
They will act as a Community Chorus, appearing alongside the show's professional actors.
The group is made up of community leaders, working for or volunteering with organisations such as Warwickshire Pride, local churches, and homeless, climate, and health and wellbeing projects.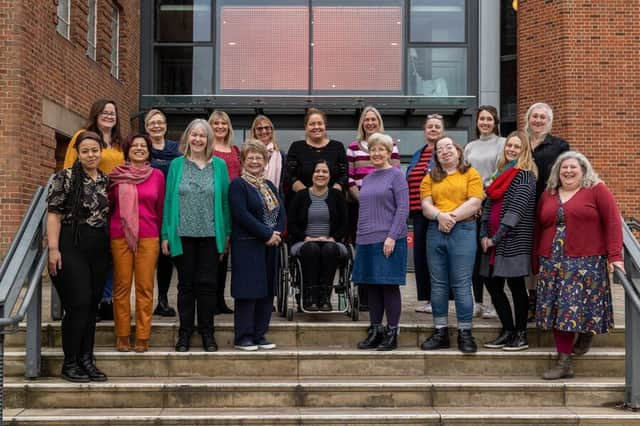 As well as gaining experience in performance, it is hoped that the group will share the skills they gain from being in the show with their own respective community groups.
Directed by Atri Banerjee, the production will explore questions such as gender in leadership and power.
Using their singing voices, the Chorus will provide a commentary on the politics of the play from the perspective of identities that have been marginalised, either at different points in history or in our world today.
The Chorus will be integrated into various musical elements of the production, and appear as an otherworldly presence alongside a number of the characters in the play, such as the Soothsayer, who famously warns Caesar to 'beware the Ides of March'.
They will also serve to heighten the play's status as a tragedy as well as a political thriller.
In March, the group will rehearse with the professional actors and wider creative team, including working on the movement elements of the show with Movement Director, Jennifer Jackson, and Associate Director, Lucy Waterhouse.
The production opens to the public on 18 March, and the Chorus will perform in groups of six, with each group appearing in around seven performances.
The Community Chorus is made up of Denicia Bernard, Naomi MacDonald and Mikaela Moody from Leamington, Janice Crompton and Wendy Sherwood from Warwick, and Michelle Avon, Rhiannon Benjamin, Anna Bhatia, Gillian Cleeve, Sarah Coleman, Margo Galvin, Sarah Paine, Janet Palmer and Alison Stoddart from Stratford.
The other group members are Alexandra Cooper (from Welford on Avon), Sarah Coxall (from Shipston), Sally Fay-George (from Moreton in Marsh), Rachel Knight (from Napton) and Charlotte Summerskill (from Southam).
Julius Caesar runs at the Royal Shakespeare Theatre from March 18 to April 8.