Wellesbourne man from The Gambia has been told he must leave country and his wife and children despite having lived and worked in England since 2007
Wellesbourne man Sidat (Sid) Touray has lived in England since 2007 and worked in two jobs to support his family before the Coronavirus pandemic struck.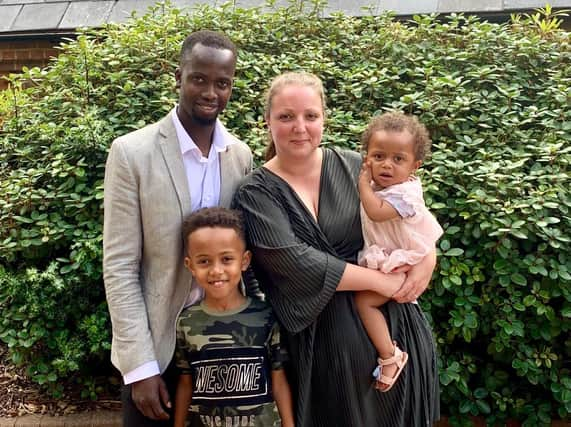 But due to issues with his latest visa application and loss of income due to the pandemic, the Home Office has now told him he has leave the country and his wife Becky and children Tyler, nine, and two-year-old Amie and return to The Gambia where he was born.
Up until April last year Sid had applied for limited leave to remain in England every 30 months.
But his most recent application - which was this time for him to be allowed to stay in the UK indefinitely - was declined due to complicated issues over him being able to prove he had not left the country for a period of time longer than 180 days since he has been living here.
This application, the process for which Sid says was delayed due to Coronavirus, cost him about £2,400.
Sid, who before the Coronavirus pandemic and the subsequent lockdowns was able to work both as a forklift driver at a warehouse and as a home care worker, is now faced with a loss of income while Becky only works for 18 hours a week as a nursery carer while looking after her children the rest of the time.
The family, like many others in these times, are struggling to make ends meet and Sid was not able to pay an immigration health surcharge of £1,000 he had been asked to to successfully apply for limited leave to remain again.
He has now received a letter from the Home Office stating that, due to the lack of payment, this application is invalid.
The letter says: "You must make arrangements to leave the country when able to do so or submit an appropriate application for leave to remain and pay the relevant fee.
"Persons who require, but do not have or no longer have, leave to enter or remain are liable to removal from the United Kingdom under section 10 of the Immigration and Asylum Act 1999 (as amended by the Immigration Act 2014)."
The letter tells Sid how "his life will become increasingly more difficult" if he decides to stay and lists the consequences of staying in the UK for Sid which can include a fine of up to £5,000 or imprisonment for up to six months.
Other issues are that he will not be able to work and that his UK driving licence, which he needs to be able to drive to work, would be invalid.
Sid moved from The Gambia to the UK in 2007 and met Becky in 2010 when he was living and working in Birmingham.
They moved to Harbury in 2014 and then lived in Sydenham before moving to Wellesbourne in 2018.
Sid said that during this time he has always worked full time to provide for his family and does not claim benefits.
He said: "It's distressing, I couldn't sleep last night.
"I worry that people think about me in a different way.
"I have never been in financial difficulty but to be asked for this extra money for my application is just too much at this time."
Sid has sought legal advice and has contacted Kenilworth and Southam MP Jeremy Wright about his plight.
Mr Wright has responded saying he is sorry for the situation Sid and his family are in and that he will make an urgent enquiry to
UK Visas and Immigration on their behalf.