West End star visits his old school in Rugby and gives inspirational advice to pupils
A former Avon Valley School and Performing Arts College pupil who rose to become a West End star told pupils to never give up on their dreams.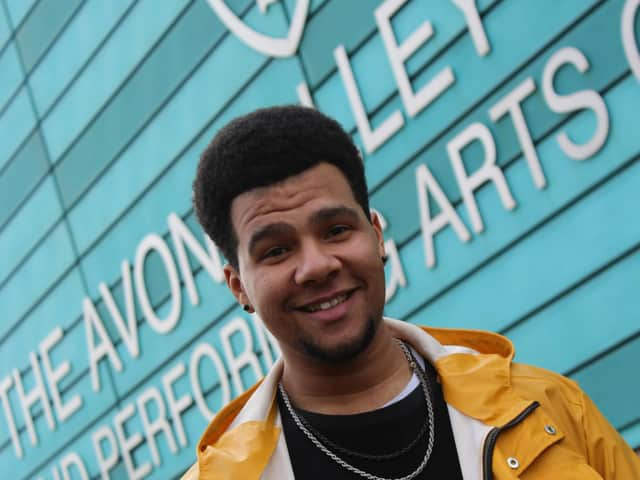 Emile Ruddock.
Emile Ruddock left Avon Valley School in 2009 and followed his dream to become an actor.
He now features as a member of the principle cast in West End production Hamilton and is currently playing Hercules Mulligan and James Maddison in the show.
During his visit to his old school Emile delivered an assembly where he explained his journey from drama lessons at the school to the stages of the West End telling the students that it is important to 'never give up on your dreams'.
Emile also took time out to watch GCSE practical exam rehearsals before speaking to the students and passing on tips and advice.
He said: "Some of my first performances were on stage at Avon Valley and the local theatre and it is great to be back.
"It really was a pleasure to see the students rehearsing for their exams and to speak in an assembly about my career to date.
"It's really encouraging to see the students' passion and enthusiasm for acting and I wish them all the best for their assessment."
After completing his GCSE exams at The Avon Valley School, Emile went on to study performing arts, dance, media and English language at Stratford-upon-Avon College before moving to London to gain work experience and make contacts in the industry.
One of his first opportunities was performing in the open ceremony of the London 2012 Olympic Games.
Emile was also a semi-finalist in Sky One's 'Got To Dance' with the tap dancing troupe The Pulse Collective, before being involved in a number of stage shows.
Alison Davies, Avon Valley headteacher, said: "It was lovely to welcome Emile back to the school and to hear about his success.
"The performing arts are a huge, and proud, part of our school ethos, history and traditions, and it is wonderful for our current students to see and hear about a former student's success.
"We are very grateful to Emile for taking time out of his busy schedule to visit us and work with our drama students.
"We hope to see him again soon."
The musical Hamilton, in which Emile stars, opened in London in December 2017 at the refurbished Victoria Palace Theatre.
The show follows the remarkable life story of Alexander Hamilton, one of the Founding Fathers of the United States, who rose to power after beginning life in poverty.
The production is set against the backdrop of the American War of Independence.