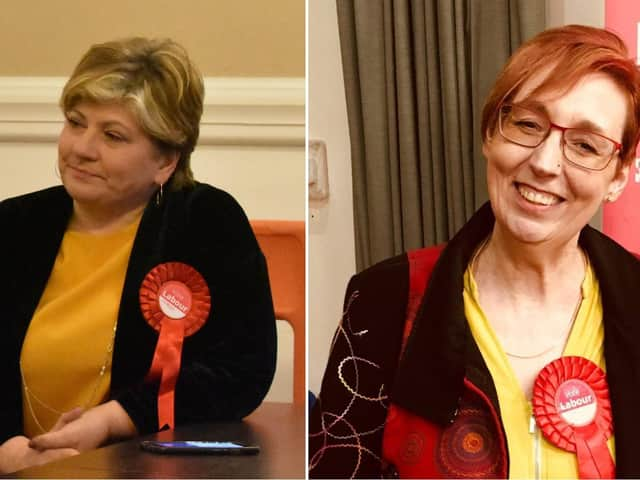 Left, Emily Thornberry and, right, Debbie Bannigan.
Emily Thornberry, who has served as shadow foreign secretary since 2016, met with Rugby Labour's parliamentary candidate Dr Debbie Bannigan.
In an interview with the Advertiser they said that what has happened to the Hospital of St Cross is 'ridiculous', adding that a Labour Government would invest in Rugby's infrastructure.
The visit comes on the same day Labour launched its manifesto, which promises, among other things, 150,000 new council and social homes a year, a 'green revolution' and an immediate 5 per cent pay rise for public sector workers.
A spokesperson for the Consevatives said Labour's manifesto outlines a: "Reckless spending spree which would take a sledgehammer to the British economy and cost every taxpayer £2,400 a year."
Both Mrs Thornberry said the manifesto speaks to 'the hearts of the British people' and is unapologetically radical.
Mrs Thornberry told the Advertiser: "You have a Labour Party candidate who is pretty famous for being a great candidate.
"She's lived in Rugby for 20 years, brought her children up here, and is deeply rooted in the community. We think that she has a good chance of winning.
"What is fantastic about this manifesto, as with the last manifesto, is that we are speaking from the heart of the Labour Party - and we speak directly to the hearts of the British people.
'Why have we been suffering?'
"When people stop and listen to what it is the Labour Party wants to do for Britain, they say, 'yes, why have we been suffering the way that we have for the last ten years.'
"When the Conservatives decided to cut back on services in the UK, they said they wanted to cut back on the debt. But the debt has gone up.
"This was a political choice that made no sense.
"We need to make sure that we invest in our communities, and that doesn't just mean the big cities, it means small towns up and down Britain.
"They get overlooked far too often. And a town like this, which is growing as fast as it is, needs some real investment in its infrastructure and in its schools and its hospital.
'It's terrible what's been happening at St Cross Hospital'
Speaking of the removal of service, including A&E at Rugby's St Cross, Mrs Thornberry said: "It's terrible what's been happening at St Cross Hospital - it's ridiculous that a town this size can have its A&E under threat like it has - it's not right.
"People know it's not right. We are a rich country. What are we doing? We have got our priorities completely wrong.
"What our manifesto said today was that we were going to increase taxes for those earning over £80,000 a year, and that we were going to increase taxes on some of the larger businesses.
"And from that money, we will be reinvesting in our country and we think that Britain has lost its way.
"We need to get back to being a society where we have a safety net with no big holes in it so that entire families don't fall through it, where we look after each other and where we become a healthier society and a stronger economy.
'People in towns like Rugby feel as though they are ignored'
"People in towns like Rugby, up and down the country, just feel as though they are ignored.
"And when there are investments, they are always seem to be in the big cities.
"It's as if our identity as a country is captured by the big cities.
"I represent a big city, but it's quite clear that there is a big heart that beats in the smaller towns up and down our country.
"You just need to come, get on the train, see how difficult it is to get about, you can experience it quite easily - go to the high street and see what's happened to the shops.
"Jeremy Corbyn was talking about this today, you can see that there is something wrong, and we need to take some radical action.
'We're not making any apologies for being radical'
"We're not making any apologies for being radical about this, because we believe that there has to be a real step change in the way that we are as a country.
"People need to think about what it is that Labour is promising and know that there is another way. It doesn't have to be like this."
What will a Labour government do for St Cross?
When asked whether a Labour government might bring services back to St Cross, Mrs Thornberry said: "I can't specifically say, but I know that the NHS is as aware as everyone that we are promising a much larger investment into the NHS and also into mental health and social care.
"Because people quite often, when they think of the NHS, they think about the hospitals - but they don't think about the elderly woman who's being left at home until 12 o'clock because of cuts to social care.
"So nobody's helping her to get out of bed and she ends up being ill and being taken to hospital and not able to get out again.
"Or people with mental health problems who end up getting ill because they can't look after themselves.
"All these things are related, so we can't just focus on the hospital - healthcare is a much wider thing.
"I can tell you that generally we are putting much greater investment into hospitals, we're going to be paying our nurses and doctors more, we're going to be investing in mental health and social care.
"In the end, the Labour Party invented the National Health Service - we are going to look after it. And it is in crisis."
Dr Bannigan says St Cross will be a priority for investment
Dr Bannigan said St Cross would be very high on the list for investment under a Labour government
She said: "I've been talking to Jonathan Ashworth [the shadow secretary for health and social care] for months now about this to make sure that when the investment decisions are made, Rugby is front and centre in everyone's mind so we don't get left behind again.
"It's great to have Emily here today because when I'm out on the doorsteps, I hear the people of Rugby say they have lost hope.
"They've come to a belief that actually scarcity and shortage is normal.
"And I have to say to them - it is not changing of the seasons and the tides of the sea, it is a choice.
"And we have a choice not to have scarcity.
"There is no scarcity, there's only greed in the hands of other people.
"And we need to make sure that we get our share when things are properly re balanced and properly reinvested - and St Cross is very high on the list for that reinvestment.
Mrs Thornberry said: "I think sometimes, what an amazing moment we're in - because it doesn't matter what they say in the newspapers or all the shouting that goes on, 'we can't do this, this is impossible'.
"Actually, power is now in this moment handed over to the people and they can decide what they want, and which way they want the country to go.
"And they are in charge at this moment.
"So there is hope, there is another way - they can vote Labour, they can get a different government, they can get a different MP."