Poonah Investments Limited, based in Albert Street in the town centre, was the original buyer of the current Cawston shops in 2012, built by key estate developer William Davis.
Poonah is now applying for a scheme to put ten homes on the nearby patch of land to the left of the access road, Heritage Close, that was hoped to be the site for a GP surgery or other community resource.
Under the terms of the original planning decision for the area, with no offers emerging for any such use, the developer was free to sell the site off.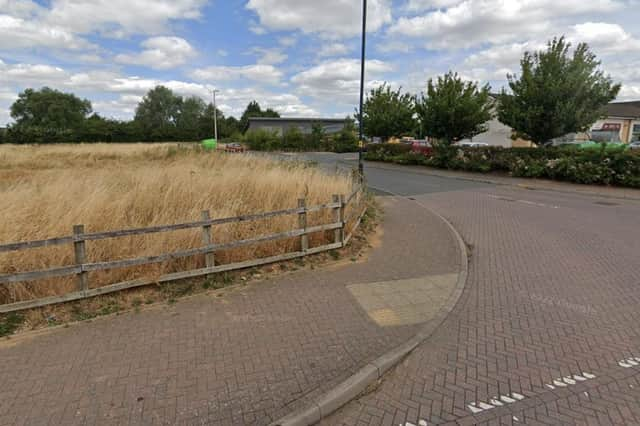 It was reported by Hallam Land Management in July that after preliminary talks with Rugby Borough Council, it sold the site to Poonah for £500,000 in April last year.
In that same month, Poonah submitted a planning application to the borough council – reference R22/0383 on the council's planning portal – and that now goes before the meeting of the planning committee this Wednesday, March 15, 5.30pm at Rugby Town Hall.
Leading County Cllr Kam Kaur (Con, Bilton and Hillside) is listed at Companies House as a director of Poonah but is not a borough councillor so she will not play any part in the decision.
The officer's report recommends that councillors approve the application but recognises it was put forward to the committee for consideration because there had been more than 15 letters of objection received and it had been called in by Borough Cllr Michael Moran (Lab, Admirals and Cawston).
The plan is for ten, two-storey dwellings in three terrace groups, made up of four, four bedroom dwellings and six with three bedrooms.
Objections were received from Cawston Parish Council, Cllr Moran, plus 22 comments from residents.
Loss of biodiversity was a consistent objection – with the parish council saying 'This site while currently unkempt is a haven for wildlife and would be sad loss of green space for Cawston' – but other areas of concern included the impact on parking and access, the pressure on amenities and the permanent loss of the site for community use.
The report assesses the application and recommends the developer is asked to make payments to compensate for the loss of biodiversity and for improvements to existing open spaces on Cawston and Alwyn Road, a potential total of more than £120,000.
It also recommends that is approval is given a condition should be included that will resonate with Time Team fans.
It notes: 'Archaeological trial trenching across this area in 2000 recovered struck flints and Iron Age material, whilst more recent fieldwork in 2011-12 identified extensive Iron Age and Romano-British features, including cremations.
'A scatter of Mesolithic flints has also been recorded in the vicinity of the site (MWA 7246). There is therefore a potential for the proposed development to disturb archaeological deposits dating to the prehistoric and later periods.
'Warwickshire County Council Archaeology do not wish to object to the development but do consider that some archaeological work should be required if consent is forthcoming'.
The full report is on the borough council website and anyone can attend the meeting or watch a livestream on YouTube.