The Conservative's budget, which includes a £5million plan to 'revitalise' the town centre, was adopted during the meeting - but Labour councillors described it as "hollow, lacking in ambition and devoid of detail".
High on the list of the Tory's town centre projects will be the redevelopment of the town hall site itself. At the budget meeting, it was confirmed that the building will be repurposed as soon as possible.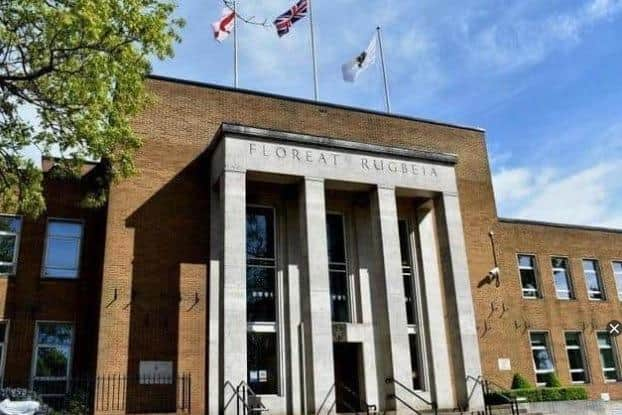 "Our town hall occupies a prime site in the centre of town. However it is too big for us, and this site will therefore be better off sold and used for something which will generate significant additional footfall in our town centre," said the council leader and leader of Rugby's Conservative Party, Cllr Seb Lowe (Coton and Boughton).
"The best way we can support our businesses in the town centre is by bringing more people in, and the investments approved last night were done with this in mind. We also announced funding to process the creation of a new public service hub which is designed to ensure far greater access to public services including healthcare in the centre of town.
"We announced additional support for the voluntary and community sector, and further provision of additional infrastructure in our town centre."
But Labour councillors argued that the town centre plan lacked detail. Cllr Michael Moran (Admirals and Cawston Ward) said a future Labour administration would instead deliver a plan in a "more professional manner like any business, school or charity would be expected to when spending such significant sums of money".
He added: "Let's be clear, after nearly 20 years of Conservative rule the town is in desperate need of real action to inject some ambition and purpose. It starts with accepting what's happened and the town's weaknesses, not patting themselves on their back for doing a great job when they patently haven't.
"How is it possible to have spent so long in charge and yet still have no concrete plans to make any improvements? Spending up to £5m on consultants and feasibility studies at this stage of the game is an insult. It is all words and no action; all talk and no trousers. A new administration is needed that understands business and has a plan to make Rugby a better place to live."
Cllr Lowe went on to say he was "delighted that the Labour group were so impressed by our budget that they decided to reword it almost line by line and try to pass it off as a distinctive Labour budget", adding: "However it was somewhat mystifying that they then chose to vote against our original version. How they can claim to care about our town centre and then try to block investment into our town centre is beyond me.
"Thanks to prudent financial management of many years, we are in a position to make this much-needed investment. Had we done what the Labour and Lib Dem groups had urged us to in previous years and spent our reserves on fashionable virtue signalling there would be no money to invest."
Cllr Slinger refuted Cllr Lowe's claim that Labour had copied their budget, saying that the Labour amendment to the town centre plan included a range of "innovative ideas including funding for a unit to better match public amenities to new infrastructure, a new Green Spaces Taskforce to improve and expand the borough's green areas to be enjoyed by residents far and wide, and a Borough Councillor Grant Fund. "
The leader of the Labour group on the council, Cllr Maggie O'Rourke, said: "It's clear to see that the Tories have lost the confidence of both the residents and local independent businesses. I speak to local businesses on a regular basis and I can see how difficult it has been for them. They feel that council could have done so much more to support them.
"The fact is that Rugby is the fastest growing town in the country and our town centre should be thriving not dying. A Labour-led council would work with businesses and other local stakeholder to rebuild our town make it place that residents are proud of."
Rugby Liberal Democrats put forward four key priorities for the budget which include a focus on a a three-year programme supporting and engaging young people.
Rugby Liberal Democrats recommend: a one-off contribution to increase the climate change fund to establish a hub to support residents with climate change, healthy living and recycling; support and increase opportunities for increasing apprenticeships and working with Warwickshire College to increase skills and training opportunities across Rugby; bring forward proposals to support partnership working with the community and parish council sector.
Group leader Cllr Jerry Roodhouse (Paddox) said: "Young people have suffered post Covid, and Rugby Borough Council must take the opportunity to listen to their ambitions and design local services for them. Targeted work has gone on, but this still leaves a big gap in mental health support along with local activities - we need to kickstart our work with young people again."
Deputy group leader, Cllr Tim Douglas (Paddox), added: "Alongside our focus on a new youth offer we would introduce an advice shop for green products and healthy living making a hub for all residents. It would also support those businesses that are offering eco-friendly products and grassroots action for residents."
As we previously reported, councillors approved a £5 council tax increase on a band D property and were informed that officers had already identified £293,000 of immediate savings with more expected.