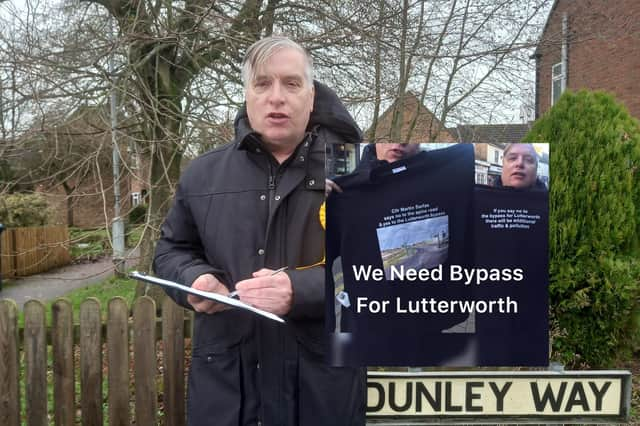 A campaigning Lutterworth councillor is continuing the fight for a bypass to ease 'frightening' levels of pollution.
Cllr Martin Sarfas (Lutterworth East, Lib Dem) has launched a petition to resurrect plans for a bypass to relieve increasing traffic in the area.
The ward councillor says the situation will only get worse due to extensions of Magna Park and a possible extension to the Misterton Quarry, as well as the Lutterworth East development.
The ambitious project for 2,750 new homes, community facilities and employment space to the east of Lutterworth was approved in 2020 after fierce public debate.
Its need was identified in the Harborough Local Plan as a key area to accommodate new housing in the district.
The plan includes improvements to main roads and junctions to increase capacity, a new spine road and a new M1 bridge.
However, Mr Sarfas, who is supported by hundreds of residents and Lutterworth's Liberal Democrat group, fears the spine road is not adequate to accommodate the building traffic levels in the town. He is continuing to lobby for bypass, which would run alongside the M1 - plans which were included in a draft of the Local Plan but omitted in the district council's final documentation.
According to the town council, the traffic in Lutterworth town centre, which is an Air Quality Management Area, will increase between 10 per cent and 17 per cent during peak hours over the next two years and heavy goods vehicles on Leicester Road will increase by a quarter by 2036.
Cllr Sarfas said: "Lutterworth had a population of 10,000 and I'm a ward of 4,800 - the traffic is not getting any better. Parents won't want to walk down Leicester Road with their kids - that is the future of Lutterworth in 10 years' time. The traffic is more than in Market Harborough, even though it has a bigger population. It's frightening really."
The councillor believes Lutterworth residents had been ignored by the district council after it omitted the option for the bypass despite residents' requests for a bypass to relieve traffic coming into Lutterworth, in a public consultation.
He added: "It's about what Lutterworth wants, that's all I care about. Harborough District Council has a problem with listening to the people of Lutterworth."
The councillor is planning to gather more signatures for the petition which currently has around 200.
The district council previously maintained that pollution levels in Lutterworth are below the recommended limit and that the increase of electric vehicles and existence of charging points, as well as an HGV gating system, were already mitigating against pollution.
In response to the latest campaign, district council deputy leader Cllr Bateman, said that the Harborough Local Plan required a spine road as part of the Lutterworth East development, and transport modelling has indicated the road would not only serve the development, but remove some through-traffic travelling through Lutterworth's centre in the long-term.