Election fever starts as first step taken on road to Rugby Borough Council elections
It could be the most interesting borough council election in Rugby for years – and today, Tuesday, March 21, is the first key date in the run-up to polling day on May 4.
Watch more of our videos on Shots!
and live on Freeview channel 276
Visit Shots! now
The timetable set by the council covers the crucial parts of the process and from today, anyone wanting to stand as a councillor can get their nominations in if they think they can do a job for their community.
It's a tight deadline as they have to be submitted by 4pm on Tuesday, April 4.
There is sure to be plenty of nominations going in, for while the Conservatives remain the largest party on the council they were rocked last year when they lost two seats – and if they were to lose two more this May, the party would lose overall control.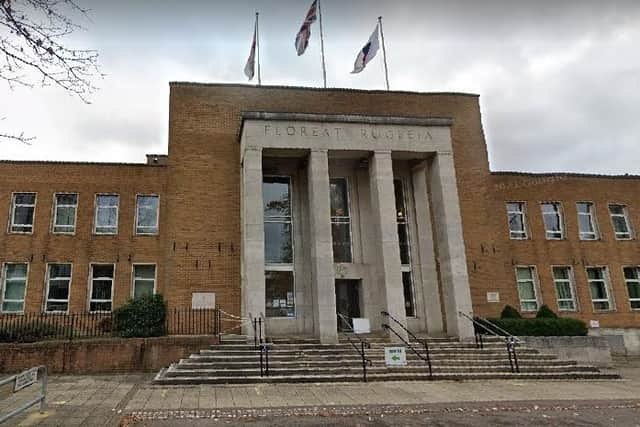 The Tories currently hold 23 of the 42 seats, with Labour on ten and the Lib Dems on nine.
Rugby Borough Council is one of the local authorities that elects a third of the seats each year in a four-year cycle that sees the separate county council elections in the other year. This tends to mean change is slow but this year sees the possibility of a little drama.
And it happens to be the year when key councillors reach the end of their current term – including Conservative group leader Cllr Seb Lowe and deputy Cllr Derek Poole, plus Lib Dem leader Cllr Jerry Roodhouse.
As nominations only started going in today, the full picture of who is standing where will not be confirmed until the day after nominations close, on Wednesday, April 5.
But political leaflets have started dropping through letterboxes here and across the country.
There has already been controversy over the need for voter ID on May 4 but the spotlight has also fallen on postal votes and early efforts to encourage them.
Social media was alive at the weekend with instances nationally of party leaflets offering to send forms out and collect them back in at the party office, to then be forwarded on to their councils. Numerous people were unhappy that parties were looking to get involved in a process councils run anyway – and questioned why they would do so,
But until a change to the law rules out the practice in December this year, it is not illegal for a political party to send forms to people and collect them, with a duty to forward them on.
A leaflet received by the Advertiser shows Rugby Conservatives are ready to offer a service and give their office number for people wanting a postal vote. Rugby Lib Dems have confirmed to the paper they also offer to send out forms, whereas Rugby Labour said they do not.
A spokesperson for Rugby Conservatives said it was something parties do, "… as an exercise in encouraging people to move to a postal vote to ensure that their voice is heard at elections.
"With people living ever busier lives having a postal vote makes it easier to vote as you can do it from the comfort of your own home and simply pop your ballot paper in the post at a convenient time."
He added that if someone rang the office they would advise of the different ways they could get a postal vote: "This would be either applying for a postal vote directly from the council or, if more convenient, we would drop a form to them.
"If the latter is their preference, we would give them the option of us waiting as they complete it and then hand-delivering it to the Town Hall for them within three working days or leaving them a freepost envelope so they could return it to us, which we would then hand deliver to the Town Hall within three working days of receiving it."
A Lib Dem spokesperson said: "On our literature we do invite residents to ask for postal votes by a number of ways, a QR code that leads to the Rugby Borough Council website, the email address of the RBC elections office or to contacts us.
"The elections office is very helpful and will send a postal vote form and reply envelope. The only reason a political party is doing this is to capture data and voting intention."
For readers who wish to stay away from political party involvement, the council website has full advice on postal voting by clicking here.
A council spokesperson explained the current situation and the changes afoot: "The Electoral Commission has a voluntary 'Code of conduct for campaigners: electoral registration, postal voting, proxy voting, voter authority certificates and polling stations' which all main political parties have signed up to.
"Section 1.3 of the code states: 'Campaigners should ensure that the local Electoral Registration Officer's address is clearly provided as the preferred address for the return of registration and absent vote application forms.
'To ensure voters can make their own choice about how to return registration or absent vote application forms, you should always clearly provide the relevant Electoral Registration Officer's address as the preferred return address, even if an alternative address is also given.
'This will also minimise the risk of suspicion that completed applications could be altered or inadvertently lost or destroyed'.
"However, the code is voluntary. Complaints regarding suspected breaches of the code can be made to the political party/candidate in question or the Electoral Commission.
"The Elections Act 2022 included a change in the law surrounding postal votes – for voters, political parties and campaigners.
"The change comes into effect from December 1, 2023, and creates a new criminal offence to stop parties and campaigners from handling completed postal votes and postal vote envelopes."
The Advertiser will also monitor the Rugby angle on the national intrigue over leaflets – where parties are either not using their traditional colours or not putting their logo in a prominent position. Send any examples to: [email protected]