Enough is enough - petition calls for action to end Rugby's glut of HMOs
'Rugby Borough Residents – Rise Up Against More HMOs!', is the title of a petition that has been launched to tackle the unstoppable growth in the number of Houses in Multiple Occupation in Rugby - unstoppable because the borough council has not got a policy to stop them.
Watch more of our videos on Shots! 
and live on Freeview channel 276
Visit Shots! now
This failure has seen a stream of applications to convert properties from homes ideal for a first-time buyer, into houses made up of a number of individual units, potentially adding greatly to the pressure on parking and resources in what are typically busy, narrow town centre streets.
Planning permission is only needed for conversions intended to accommodate more than six people. Licensing of the properties for multiple occupation is a separate issue, with there also being concerns there are HMOs operating illegally in the town.
The new petition has been launched on change.org and campaigners are also planning a protest ahead of the borough council's meeting at the town hall tomorrow, Wednesday, February 8, when, as reported by the Advertiser last week, a plan for 50 Windsor Street goes before the planning committee with an officer's recommendation to approve.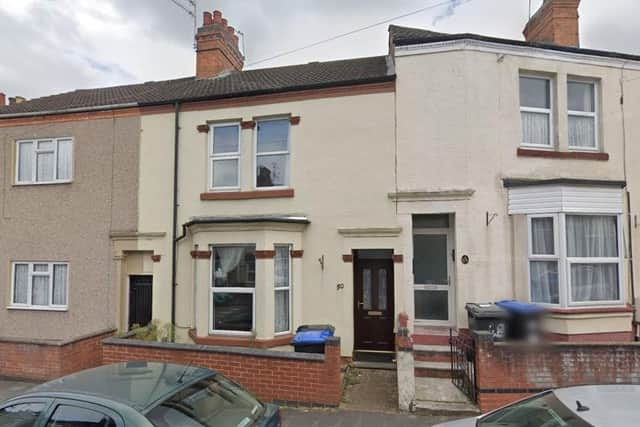 The petition can be found by clicking here and sets out the reasons for people to sign – more than 200 people already have.
It says: 'Rugby residents - are you aware that Rugby Borough Council has no policy within their existing planning strategy on Houses in Multiple Occupation (HMOs)?
'Are you aware that 100 per cent of your street could in effect, under the present council, be purchased by developers and turned into HMOs due to this complete lack of policy?
'Without a policy in place, developers can continue to purchase the much needed family homes within the area and turn them into HMOs with almost no question. In one street alone a developer is in the process of purchasing four homes in a row – turning each one into a 7-8 bed HMO, subjecting the neighbours to years of construction work and noise - and that's prior to the 28+ residents moving in and the stresses that will cause on parking and local amenities.
'HMOs are needed, we agree, but there needs to be some constraints put in place, some parameters set, a policy laid down that ensures that the whole town isn't lost to this transient market that continues to take away affordable town centre family homes'.
The petition calls on the borough council to introduce a policy on HMOs where it currently has none; consider licensing all HMOs; and consider the introduction of Article 4, a measure adopted by other councils that requires all changes from family homes to HMOs to need planning permission.
It concludes: 'Other local councils have managed to pull their fingers out and introduce policies on this matter – it's now time for our council to do the same'.
The pressure on the town centre streets of these HMO applications have been repeatedly highlighted by the Labour ward councillors that represent them.
The council's Labour group leader Cllr Maggie O'Rourke represents one of those wards, Benn.
She said she was not against HMOs being part of the housing offer in Rugby but the growing concentration in certain areas was a concern: "People are really, really upset about the impact on the community. Other councils have got policies in place but the Tories here have not managed the situation.
"Benn Ward has become a commercial property area. Every time a property comes up for sale developers can sense a commercial prospect and these are first-time buyer homes that are being taken away."
Those who have signed and commented on the petition make similar points.
One person said: 'No restriction on HMO's has been worrying me for a while, brought to my notice by watching Homes under the Hammer'.
Another added: 'The massive increase in HMOs is resulting in less and less homes for families, pushing up house and rental prices and causing chaos with parking'.
When the Advertiser reported on two applications going to committee in December, both reports included the same response to complaints about the number of applications that highlighted the current policy failure: 'Objections have been received with concerns over the number of HMOs in the area.
'Whilst it is acknowledged that there are a number of HMOs within the locality, which have introduced an alternative type of residential accommodation being provided, there is no policy position or constraint that would prevent further changes of use from houses to multiple occupation accommodation'.
Number 50 Windsor Street is a three-bedroom home but the plan from Sussex-based JCL Property Group Ltd, is to open up the roof space with a dormer conversion and create seven units on three floors for single occupancy, each with an en suite; plus a shared lounge and kitchen area.
In a popular tactic, the developer says a cycle rack will be provided and the proximity to the railway station and bus routes will dampen demand for cars, a position not shared by critics of the plan.
The full report is now available on the council's website as part of the planning committee agenda and the original application showing the plans can be found on the council's planning portal, reference R22/0722.
The planning committee meets at 5.30pm on February 8, at the town hall. Members of the public can attend the meeting. The borough council also offers a livestream of the event which is also available afterwards on YouTube.