John Roger Mac, of Hinckley Road, Wolvey, just inside the Rugby borough, ignored warnings from Blaby District Council to remove the illegal structure at Mill Bank House, in Sapcote.
The council's planning enforcement team said permission had been granted for a similar project on the land off Leicester Road.
However, the L-shaped building under construction was not in the agreed position and was bigger than it should be.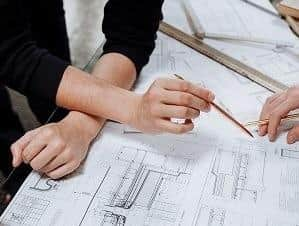 Mill Bank House not being demolished meant the scheme would result in "an undue proliferation of built form within this countryside location". Mac was issued with an Enforcement Notice by Blaby District Council in September 2022, but appealed this.
The planning inspectorate, the Government body which oversees planning disputes, ruled in agreement with the council in February last year and Mac was given six months to clear the land and return it to grass. When he failed to do so within the six months, Blaby District Council started legal proceedings.
Leicester Magistrates' Court found Mac guilty of non-compliance of an Enforcement Notice in February this year, the council announced today. He was ordered to pay a total of £1,897.50, which included a fine of £900, costs of £637.50 as well as a victim surcharge of £360.
This is not the first time Mac has been in trouble for planning breaches. In October last year, he was fined nearly £9,000 by Leicester Magistrates, that time for failing to halt illegal work at Granitethorpe Quarry, also in Sapcote, when ordered.
The Council's Planning Enforcement team said the single structure had an "unsympathetic and unduly urbanising effect on the site's rural character and appearance.". The former quarry, now partially filled with water, is in protected countryside.
He was given two months to remove newly laid the concrete foundations, blockwork and brickwork and return the land to its previous state, which he did not do.
Councillor Ben Taylor, Portfolio Holder for Planning Delivery and Enforcement and Corporate Transformation, said: "This is another success for our Planning Enforcement Team who work so hard to prevent unwanted and poorly designed developments in our District. People who flout planning rules will be brought to account."