The nine signs that mark the boundaries of the town area already make the link to its proud sporting heritage as the frames are shaped as rugby goalposts and the welcome sign is rugby ball-shaped.
And now each of them has had a bicentenary plaque added, part of a £52,000 package of measures Rugby Borough Council agreed in December to raise awareness of the special year ahead.
The principal events are in the hands of William Webb Ellis's alma mater and are already under way – but borough councillors agreed a package of measures to complement Rugby School's flagship programme.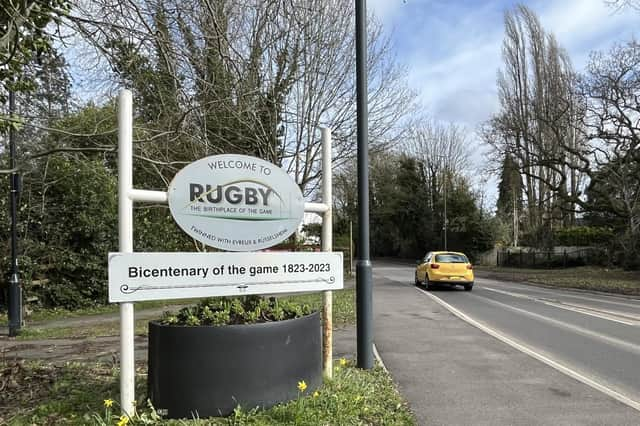 An early sign of this support was the unfurling of the lamppost banners.
A council spokesperson said: "A total of 59 banners have been put up, covering the main arterial routes into the town centre, including Leicester Road, Newbold Road, Russelsheim Way, Hillmorton Road, Whitehall Road, North Street, Corporation Street and Evreux Way."
And the special bicentenary plaques add to the impression – although the sign pictured here would have dazzled even more with a lick of paint to cover the rust on the goalposts.
But that minor quibble aside it is one of a number of measures to boost the feelgood factor about being the birthplace of the game – stand by for the possibility of bicentenary bunting, the addition of a special plaque to the Pathway of Fame and more.
What the borough council can't influence, is how England do against Ireland on Saturday.