The council's current leader Cllr Seb Lowe (Con, Coton and Boughton) issued a statement, jointly signed by his deputy Cllr Derek Poole (Con, Wolston and the Lawfords), apologising for the words and actions of their predecessors, which triggered the protest at which Labour MP Chris Smith announced he was gay.
Warwickshire Pride, the county's LGBT+ charity, hosted Saturday's event. Almost 40 years later, the now Lord Smith returned to the town and spoke on the steps of the town hall about what happened in 1984.
The event also included the vigil for Brianna and was attended by around 100 LGBT+ people and allies of the community.
There were speeches from Warwickshire Pride's chair of trustees Daniel Browne, Lord Smith, Mayor of Rugby Cllr Carolyn Watson-Merret (Con, Admirals and Cawston), and members of the area's LGBT+ community.
There was also a minute's silence in memory of Brianna and all trans people who have lost their lives to hate.
Mr Browne said: "Although we were gathered under devastating circumstances, it was good to see the community come together as it did to remember Brianna Ghey, to think of all trans people who have lost their lives to hate, and to mark what happened in Rugby in 1984.
"Rugby Borough Council has come a long way since it tried to ban gay people from working there and I am pleased to see the council has publicly apologised for the decision that councillors made almost 40 years ago.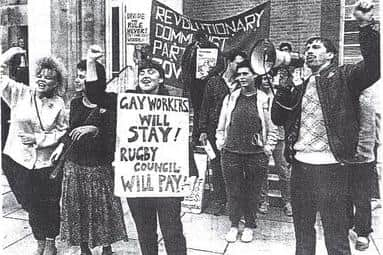 "While Rugby Borough Council has taken steps forward, sadly society is going backwards and we are seeing hate increasing towards LGBT+ people.
"Indeed our own research, commissioned by Rugby Borough Council, showed that hate towards LGBT+ people in Rugby is happening at a rate of more than twice the national average.
"It's why Pride must remain a protest and why Warwickshire Pride will continue taking to the streets to support LGBT+ people and especially trans people."
Warwickshire Pride will host a Rugby Pride event this summer and has recently opened an LGBT+ youth group and LGBT+ adults group in the town. Further information can be found by clicking here.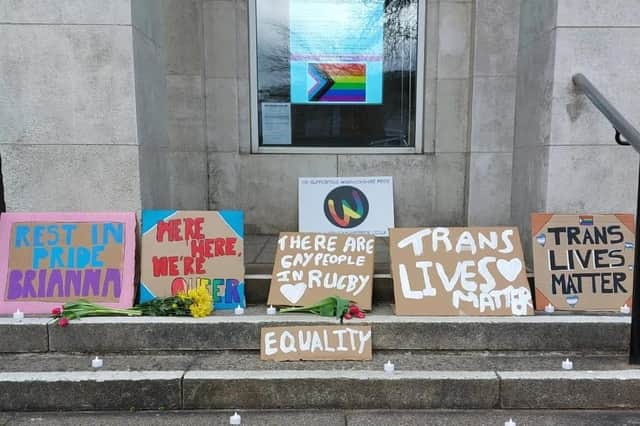 In the council's statement, Cllr Lowe said: "Nearly 40 years ago Rugby Borough Councillors made a decision that was painful for our LBGT residents.
"It caused the LGBT community hurt both in Rugby and further afield. It is no comfort that the councillors reversed their decision some months later.
"Neither I, nor most of my councillor colleagues were part of the council at that time. Neither were the council's officer leadership.
"Nevertheless, I apologise wholeheartedly to our LGBT communities and to our wider residents for the hurt that decision caused. It was wrong, and we are sorry that it happened.
"Rugby Borough Council is unrecognisable from the authority that made that decision in 1984."
The full statement in support of Saturday's event is available on the council's website.