Spot the difference in approach to Rugby's next Local Plan
The most dramatic impacts of Rugby's current Local Plan are yet to be seen – but the debate over the replacement for it is kicking off.
Watch more of our videos on Shots! 
and live on Freeview channel 276
Visit Shots! now
Early exchanges over a new Local Plan have already begun but look to be stepping up a gear ahead of the first key steps in the autumn – and with a new edge to proceedings as the parties adjust to Rugby Borough Council having gone to no overall control in May this year.
The current plan saw a huge backlash in 2016 and 2017 from residents' groups, extensive coverage from the Advertiser – and a decided lack of involvement from many councillors.
Some did speak out in the areas directly affected by the proposed 5,000 new homes for South-West Rugby and the threatened allocation at Lodge Farm outside Dunchurch.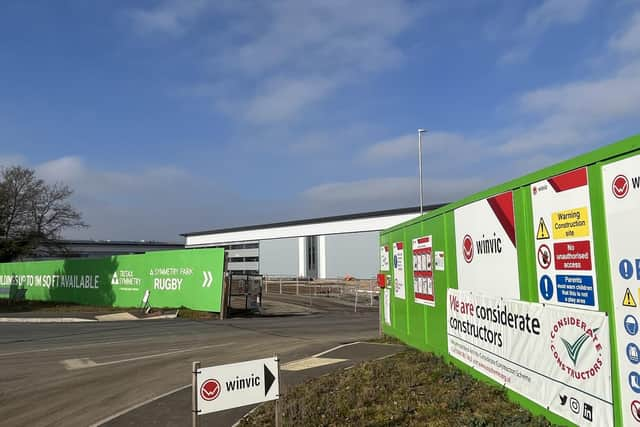 After a number of modifications from a planning inspector the plan went through but only a limited amount of the housing has yet been seen, with the warehouses at Thurlaston the biggest indication of how dramatically things will change under its provisions.
When the Homestead Link Road running around the north-west of Dunchurch is built, that will clear the way to the remaining houses.
But the schedules mean Rugby Borough Council has to start considering how it refreshes the plan, long before the current one plays out in its entirety.
Opening skirmishes in December saw the Conservatives argue for a full review of the plan, an approach labelled 'absolute madness' at the time by Cllr Michael Moran (Lab, Admirals and Cawston) and the Lib Dems also raising concerns about the numbers.
And with the council already having seen signs of a new era since the Conservatives lost control of the council – though remaining the largest party – the issue returned to the agenda this week.
First out of the blocks were the Lib Dems who say the council should be clearer about how it sees the future of Rugby before releasing its issues and options document about the plan, which they say is due in October.
Cllrs Isabelle McKenzie (Rokeby and Overslade) and Neil Sandison (Eastlands) said in a joint statement: "We are planning for the future and we need to get this right - generations have been let down by poor planning.
"The council doesn't need to fire the starting gun now, instead it should engage with our residents and communities to gather their views."
They set out a range of issues they say need greater understanding, including climate change, the impact of the Environment Act 2022, the assessed needs for Coventry and Warwickshire for housing and employment land, the vision for Rugby town centre, the need for a policy on houses in multiple occupation (HMOs) and the need for gypsy and traveller sites.
Group leader Cllr Jerry Roodhouse (Paddox) added: "On employment land we want to see greater evidence. This should not be all about having very large warehousing locations. Manufacturing and technology companies need space as well.
"Lifetime homes standards should be used and a greater appreciation of the changing demographic along with greater emphasis on public health criteria for healthier communities.
"On climate change and biodiversity, very early on in this process the council should clearly indicate where new country parks will be located along with green buffer zones, climate adaptability is the key to future planning along with ensuring net biodiversity gain should form the foundations for any new Local Plan.
"Engagement should be underpinning all of this and this should be done now to pull in as much evidence before an options and issues paper is released."
For Labour, Cllr Moran, now group leader, said: "We are clear in holding our position – Rugby does not need a new Local Plan at this point and its associated £500,000 costs and threats to building on our green belt.
"We will resist this totally as we made clear in our manifesto for the May elections.
"This council needs to focus on providing for its existing residents first and foremost.
"Councils across the country are either pausing or completely abandoning their Local Plans because of the uncertainty surrounding government policy in this area - yet here we are seemingly about to launch headlong into an entirely new one."
His comments were backed up by a detailed statement which highlighted how progress can be made to key issues in the borough, outside of the Local Plan process or by pursuing just a partial review – including a way to address the council's alarming lack of a policy on HMOs, its lack of gypsy and traveller sites and furthering town centre regeneration.
But deputy leader of the council and portfolio holder for Cllr Ian Picker (Cons, Hillmorton) set out his party's position on the scale of the review and the release of the issues and options paper.
He said: "We believe there is an opportunity for a bold and wide-ranging review of Rugby's Local Plan to respond to some of the policy areas where concerns have been raised, as well as to introduce new and ambitious policies to support our declaration of a climate emergency, the regeneration of Rugby's town centre and to ensure that the next generation of skilled businesses want to invest in our borough.
"The first stage of this will be a full consultation with residents and organisations through an issues and options paper, which will set out the areas we are seeking to review within the plan alongside some of our aims, and invite comments and suggestions which the council will then consider before bringing forward more detailed proposals.
"I look forward to continuing to work with others to ensure that Rugby's planning policy is fit for the coming years."