So far, it seems, not very many of us, even though these two have been set up by Rugby Borough Council – and while not working on any projects yet, the hope is they could be an important part of how the council will achieve its ambitions.
Local authorities have had a chequered history with commercial ventures.
Indeed, though the lack of awareness about Caldecott means few watching Question Time from Rugby would have taken note, Ian Hislop offered a withering judgement on councils that get out of their depth.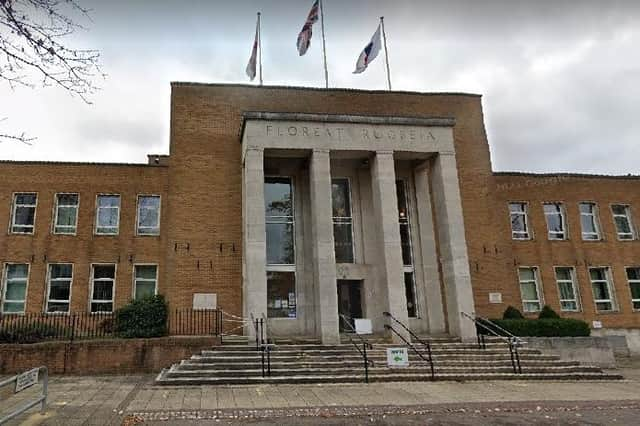 He said: "One of the problems local councils face is they are desperately short of money, there's a £3b budget shortfall so local councils start thinking, 'how on earth do we raise money'.
"So they start trying to become property developers or energy companies and it's just amazing what some local authorities have tried to do to raise money and they have failed abysmally, this isn't their job."
But borough council leader Cllr Seb Lowe told the Advertiser the Private Eye editor was referring to a few high-profile cases where eye-watering amounts had been borrowed and things had gone badly wrong - whereas Rugby was being cautious in its approach.
"Where it has been a success – and it has been more successful than not – it has been on a smaller scale and that is what we are trying to do.
"It is unusual for a local authority not to have a commercial entity and we are being cautious.
"It is about making money but we are also hoping to address our broader social and housing needs. Any money generated will be used to pay for services."
The Advertiser became aware of Caldecott in January when the council issued a press release about the budget for the financial year ahead – we spotted the Caldecott name in the budget details and a possible allocation of more than £9m to help it develop homes on eight sites.
The council's website revealed a few pages about Caldecott – but if you don't know the companies exist, you wouldn't go looking for them.
And as part of extensive questioning from this paper, the council confirmed their setting up was covered in the confidential section of four different meetings - of July 6, 2020; September 7, 2020; June 28, 2021 (all cabinet meetings) and September 22, 2021 (full council).
The recommendations from those meetings are in the public domain but not the discussions that took place.
But Cllr Lowe was similarly reassuring the council had pursued a cautious approach: "Caldecott Group Limited and its governance structure were set up by the council with full support from specialist consultants in this field, based on successful models already operating in the marketplace and the lessons learned by organisations which have considerable experience running commercial trading operations."
A council spokesperson explained why two companies had been set up: "The council set up a trading structure – Caldecott Group Limited (CGL) – to support economic growth in the borough by delivering efficient, commercially-driven developments and projects, with all profits supporting the council's operations and services.
"The council wholly owns CGL.
"Under CGL, the council has set up Caldecott Developments Limited (CDL), an operating company.
"CDL intends to develop new homes on council-owned land, developments unlikely to be progressed by the private sector.
"CDL is a joint venture, with the council owning 50 per cent of shares and the other 50 per cent owned by Norse Group Limited, a company owned by Norfolk County Council."
The council says it chose Norse as a partner, 'due to the group's considerable expertise and experience in delivering successful housing developments nationwide'.
Both Caldecott companies can be found on Companies House where the names of directors are listed, open for all to see.
Caldecott Group Limited is the parent company and has four current directors – three borough councillors (Peter Eccleson, Ish Mistry and Ramesh Srivastava) plus a borough council officer (Dan Green, deputy chief executive).
The operating company, Caldecott Developments Limited, also has four current directors – one borough councillor (Tony Gillias), one borough council officer (David Collins, property manager) and two from Norse.
There is also a third element – described on the council's website as a shareholders' committee which will keep watch over things.
And the council spokespersons have offered reassurance that this is part of the council's strategy for addressing any issues that could arise in this new world.
A spokesperson said: "Robust checks and balances have been put in place to ensure council officers and councillors are not compromised by conflicts of interest.
"In addition to all the necessary council approvals, a specialist audit body (Caldecott Group Shareholder Committee) oversees CGL's business plan and operations."
A colleague added: "No individuals within Caldecott Group Limited or Caldecott Developments Limited are remunerated from the company.
"An independent chair with experience in trading structures has been appointed to the shareholders committee. They are paid a special responsibility allowance of £3,377pa.
"This is in accordance with the allowance paid to all chairs of the council's decision-making committees."
Although a figure of more than £9m was in the offing, that allocation has currently been paused.
A spokesperson explained: "Due to the recent rise in inflation – particularly the increasing cost of construction materials and labour – the council has launched a review of CDL's business plan and intends to undertake additional due diligence on the eight sites in question.
"The council has paused the allocation of the capital sum while the review and due diligence takes place and, as such, neither CGL or CDL are currently actively trading."
Both still exist - and the parent company could develop further trading arms in future.
But for Cllr Lowe, Rugby's approach is nothing like the scenario Ian Hislop warned about: "The idea we would do anything reckless is preposterous."